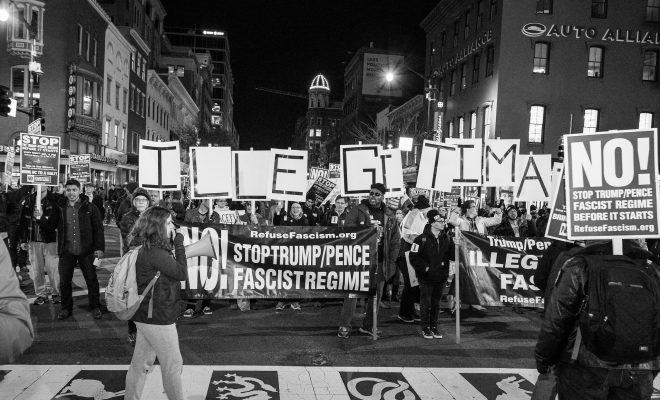 "Inauguration Protests" courtesy of Mobilus In Mobili; License:  (CC BY-SA 2.0)
News
RantCrush Top 5: January 20, 2017
By
|
Today is inauguration day, and Donald Trump is officially our president. But that doesn't mean that everyone is on board–Trump remains divisive on many issues, including climate change. Now that it's official that 2016 was the warmest year on record, hopefully Trump and company will start listening to the scientists on this one. Read on for the last rants of the week!
Welcome to RantCrush Top 5, where we take you through today's top five controversial stories in the world of law and policy. Who's ranting and raving right now? Check it out below:
Today is the presidential inauguration of Donald J. Trump. Almost 1 million people are there to witness the transfer of power and there have already been clashes between protesters and supporters. Last night police had to use pepper spray to keep protesters at bay as they filled up the area outside the National Press Club, where the pre-inaugural ball, nicknamed the "DeploraBall," took place. There were at least four fights between protesters and guests attending the ball and people threw water bottles and debris.
Powerful Movement for Black Lives has kept this #inauguration access checkpoint shut down for hours. pic.twitter.com/7FvsAu3u9u

— ✊ #DisruptJ20 ✊ (@DisruptJ20) January 20, 2017
Trump spent the night in the Blair House, located across the street from the White House, and went to church in the morning for a short prayer service. The inaugural program started at 11 a.m. At 3 p.m. the inauguration parade will begin, which is expected to last for about 90 minutes, making it the shortest one on record. Overall, the affair may end up being notably low key. Trump has had a hard time finding artists to perform at the ceremony itself, and Trump's team has aimed to keep the prices of inaugural ball tickets low so that they're accessible to working class people.
It all begins today! I will see you at 11:00 A.M. for the swearing-in. THE MOVEMENT CONTINUES – THE WORK BEGINS!

— Donald J. Trump (@realDonaldTrump) January 20, 2017