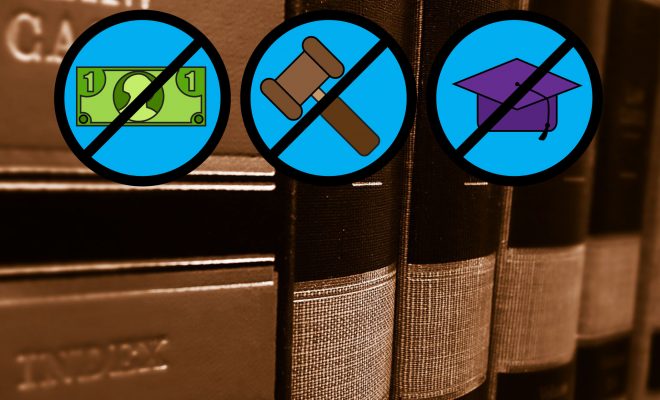 Image derivative of witwiccan; License: Public Domain
Schools
Charlotte School of Law Closes
By
|
For profit Charlotte School of Law has officially closed its doors, after years of accusations that its predatory model was harming students. The office of North Carolina Attorney General Josh Stein confirmed that the school is closed, and its license to operate in the state has lapsed.
Charlotte Law was a for profit law school, struggling in a time when for profit institutions are under increasing scrutiny. Charlotte Law, along with Arizona Summit Law School and Florida Coastal School of Law are owned by the same company, InfiLaw.
Charlotte Law was on probation with the American Bar Association, and had been cut off from federal aid by the Obama Administration's Department of Education. The school was also in hot water with the state of North Carolina. Accusations about Charlotte Law mostly focused on the fact that it wasn't actually providing its students with what it promised. Less than one-fifth of students pass the bar exam, and many have had a difficult time securing legal jobs. According to required disclosures to the ABA, only 80 of the 340 graduates from 2016 have found permanent, full time jobs that require bar exam passage.
It's unclear what will happen to students who were enrolled at the school, and the debt that many of them hold. Current students would be able to have their federal loans canceled. Anyone who withdrew from the school in the last four months can have their debt discharged, but not those who withdrew before that. AG Stein has written to Secretary of Education Betsy DeVos, asking that loan forgiveness be expanded for Charlotte Law students. Over 90 percent of Charlotte Law students have taken out federal loans.
Charlotte Law is the second law school to see its door shuttered this year. Whittier Law closed earlier this year, although with seemingly more warning and with more plans in place to deal with students that were already enrolled. Whittier was the first ABA accredited law school to shut down in more than 30 years.