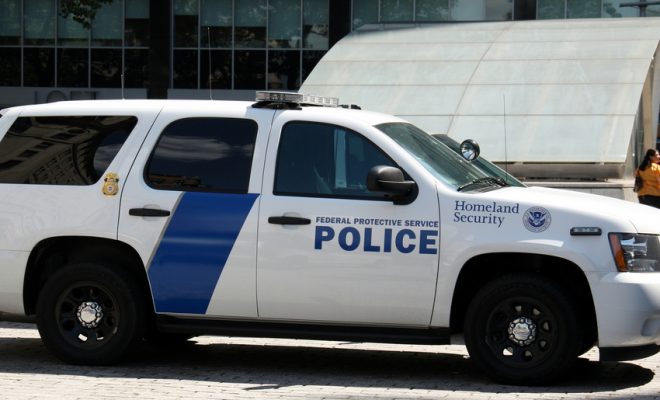 Image courtesy of [André Gustavo Stumpf via Flickr]
Politics
Department of Homeland Security: The Rise of National Security After 9/11
By
|
There's been a lot of talk over the potential shutdown of a crucial government agency–the Department of Homeland Security (DHS). But for a lot of Americans, exactly what DHS does isn't really known. What would the effects of shutting it down be, and how could it affect daily life in the United States? Read on to learn about DHS's inception, history, functions, and the current debate in Congress over its future.
---
What is the Department of Homeland Security?
DHS is a department under the Executive Branch of the Government. As a result, the Department reports to the President of the United States.
The Department of Homeland Security was created just after the terrorist attacks on September 11, 2001, when Tom Ridge was appointed to serve as the first Secretary of Homeland Security. However, it was not considered to be an independent office until November 2002, when the Homeland Security Act passed Congress. The first day of business for the new office was March 1, 2003.
The DHS states its mission as follows:
The vision of homeland security is to ensure a homeland that is safe, secure, and resilient against terrorism and other hazards.
Since then the Department has evolved due to acts of Congress or through actions made by its leadership. Often these changes have been made with the intention of streamlining how DHS deals with various areas of national security.
Why did 9/11 spark the creation of DHS?
On September 11, 2001, 19 members of a terrorist group known as Al-Qaeda took control of four United States passenger airplane flights and pointed them at various locations inside America. The targets of the first two flights were the Twin Towers located in New York City. The target of the third flight was the Pentagon in Washington, DC. The target of the fourth flight has not been determined, but many believe that the aircraft was aimed at the White House; however, the plane did not reach its target because it was forced down in a field located in western Pennsylvania. Between the four aircraft and their targets, roughly three thousand people died that day. The video below briefly shows what happened on the fateful day.
Prior to 9/11, an attack on American soil had been virtually unthinkable. The U.S. responded in part by creating the DHS to address the new challenges of terrorism and security in a changing global environment.
What is the Homeland Security Act?
The Homeland Security Act was a bill sponsored by former Congressman Richard Armey (R-TX) to create a department that could fulfill a threefold primary mission:
(A) Prevent terrorist attacks within the United States;

(B) Reduce the vulnerability of the United States to terrorism; and

(C) Minimize the damage, and assist in the recovery, from terrorist attacks that do occur within the United States.
Who runs DHS?
The Department is overseen by the Secretary of Homeland Security. Currently that position is held by Jeh Johnson, who was appointed by President Obama in 2013. Prior to Johnson, the Homeland Security secretaries were Tom Ridge, Michael Chertoff, and Janet Napolitano, although James Loy and Rand Beers also served in acting capacities. The Secretary of Homeland Security is a member of the President's cabinet, and is 18th in the order of Presidential succession.
What kind of a budget does the Department of Homeland Security run on?
DHS is funded by taxpayers, and granted its budget by the United States Congress. For fiscal year 2015, the Department of Homeland Security requested $38.2 billion from Congress. The funding request to Congress was increased to forty one billion, two hundred million dollars for fiscal year 2016.
---
What does the Department of Homeland Security do?
DHS is involved in a number of initiatives, which cover a wide scope. The big four are known by the acronyms FRG, HSARPA, CSD, and RDP. There are also two other areas, known as SAFECOM and the Blue Campaign. Read on for more information about each of these initiatives.
First Responders Group
The First Responders Group (FRG) is a group of many programs that deal with First Response–or the government reaction to any sort of catastrophe such as the 9/11 terror attacks. The programs run by FRGs range from implementing First Responder training, to improving public safety, to conducting research into technology to help prevent or protect the public and those who are involved in dealing with disasters. One example is the website FirstResponder.gov. The purpose of this website is to keep all information on First Response in one place.
Homeland Security Advanced Research Projects Agency
HSARPA is a group of different programs that aim to protect America's borders, be they land or sea, from a range of threats. These threats can include chemical, cyber, biological, or conventional explosives. An example of the steps undertaken by HSARPA is the Air Cargo Program, which aims to develop better technology to check luggage for any signs of explosives.
Cyber Security Division
The Cyber Security Division is a branch of HSARPA that deals specifically with cyber threats to America. As it is a branch and not a standalone program, it includes a smaller group of programs. One of the biggest of which is the Rio Grande Valley System's Analysis Project, which aims to help with the environmental and immigration challenges that are presented by the Rio Grande Valley.
Research and Development Partnerships Group
The Research and Development Partnerships Group is a newer branch of DHS, created in 2010. This group focuses on working with 30 other laboratories around the country focused on keeping America safe. An example of what RDP does is the Disaster Assessment at Harbors and Ports: The Unmanned Port Security Vessel project. The aim of this project is build a ship that functions like a drone to patrol U.S. ports for signs of danger.
SAFECOM
SAFECOM is a program that is designed to help to develop safer communication lines, be it improving already existing methods of communication, or helping to create new methods. One example is  FirstNet. This is an organization that DHS sponsors whose purpose is to set up and maintain a high quality network that is only available for first responders.
The Blue Campaign
The Blue Campaign is a program that was created by the Department of Homeland Security, which works in partnership with law enforcement agencies as well as other government agencies to spot, take down, and prevent human trafficking. It also seeks to provide relief and protection to those who have been victimized by human trafficking.
---
 What happens if the Department doesn't get its funding?
If the Department of Homeland Security does not receive the funding that it needs to keep the doors open, all non-vital programs will be shut down and many of its employees–roughly 15 percent, or 30,000–will be furloughed. The rest–approximately 200,000–will still work, but will not necessarily receive anything for their work. While 15 percent doesn't seem like too many, any reduction in DHS staff is a concern for our national security and first response capabilities. The video below explains not only how America arrived at this situation, but also what will happen if the money doesn't make it to DHS in time.
Crisis Averted?
The deadline has been postponed, and the DHS is now funded through March 19, 2015. That being said, the argument still isn't over. There are still a lot of things that Congress will have to sort out before DHS is guaranteed to stay funded. Arguments over President Obama's immigration plans are first and foremost. The Department of Homeland Security is a vital tool that the United States uses to make sure its borders are secure and that its citizens are safe. If the funding keeps getting held up, the viability of all of these programs is at risk.
---
Resources
Primary
Department of Homeland Security: Blue Campaign
Department of Homeland Security: Creation of the Department of Homeland Security
Department of Homeland Security: DHS Budget
Department of Homeland Security: First Responders
Department of Homeland Security: Homeland Security Act of 2002
Department of Homeland Security: RDP
Department of Homeland Security: SAFECOM
Department of Homeland Security: Secretary Jeh Johnson
Additional
HISTORY.com: 9/11 Attacks – Facts & Summary
USA Today: Homeland Security Shutdown: What's It All About?"
MSNBC: A DHS Shutdown by Any Other Name
CNBC: Congress Pursues Funding to Avert DHS Shutdown
Politico: GOP Leaders Set to Swerve DHS Off the Cliff