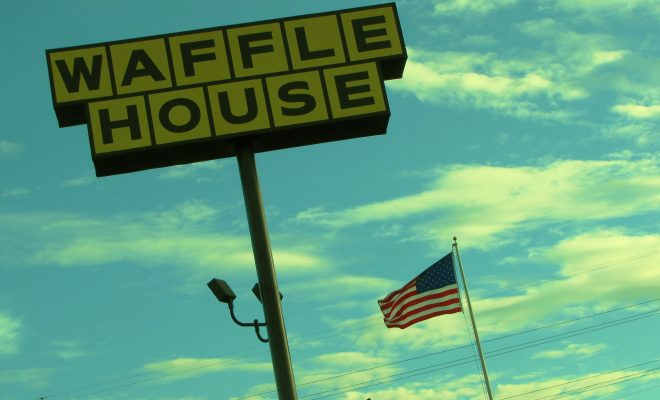 "Patriotic Waffles" courtesy of [Gerry Dincher via Flickr]
RantCrush
RantCrush Top 5: October 7, 2016
By
|
Welcome to RantCrush Top 5, where we take you through today's top five controversial stories in the world of law and policy. Who's ranting and raving right now? Check it out below:
A banner lauding Putin as a "Peacemaker" appeared on NYC's Manhattan bridge Thursday. It immediately stirred up a lot of buzz. It was removed in a couple of hours, but not before Twitter users grabbed some pics.
We spotted this Putin banner being unfurled on north side of the Manhattan Bridge at 1:47 p.m. https://t.co/DStAoerBz9 pic.twitter.com/kL2uUh9Vhe

— Gothamist (@Gothamist) October 6, 2016
Some observers were amused, but others not so much.
This Vladimir Putin banner dangling on Manhattan Bridge is equally as disturbing as the numerous clowns that are showing up in random places

— Call me James (@nyjones7) October 6, 2016
The thing that makes me madder than this banner is the fact that someone had to piss off a whole lot of bikers going uphill to put it there. https://t.co/qLAp9t09ie

— Scott Steinhardt (@ScottFromNY) October 6, 2016
Police are checking surveillance cameras to see who the person is behind this obvious statement.