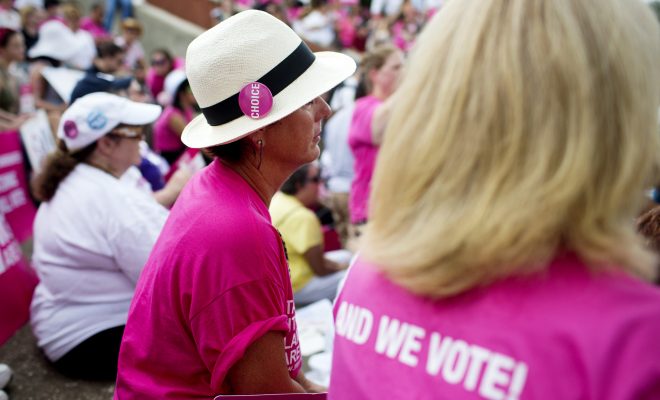 Image courtesy of PBS NewsHour; License: (CC BY 2.0)
RantCrush
RantCrush Top 5: January 17, 2017
By
|
Hi and welcome back after MLK weekend! As usual, Donald Trump has been active on Twitter, and has made some new enemies. Welcome to RantCrush Top 5, where we take you through today's top five controversial stories in the world of law and policy. Who's ranting and raving right now? Check it out below:
The FBI has arrested the wife of Omar Mateen, the man who carried out the mass shooting at the Pulse nightclub last June in Orlando. The police interrogated Noor Salman early on in the investigation, but didn't charge her with any crimes until now. She is accused of obstructing the investigation and aiding and abetting Mateen by providing material support, which means police believe she knew about her husband's plans. But Salman has always claimed she didn't know anything and has reported that Mateen was physically and mentally abusive.
Noor Salman, wife of Orlando massacre shooter Omar Mateen, has been arrested for aiding and abetting https://t.co/a1Da4h2Ssw pic.twitter.com/z6aIgpxukV

— CBS Evening News (@CBSEveningNews) January 16, 2017
And in Turkey, police captured the suspect in the Istanbul New Year's Eve nightclub attack, Abdulkadir Masharipov. The Uzbekistan citizen was still in Istanbul, hiding at a friend's apartment with his four-year-old son, police said. Masharipov shot and killed 39 people and injured dozens more when he attacked the Reina nightclub. ISIS claimed responsibility for the attack but it's still unclear exactly how the terror organization contributed. Turkey's Deputy Prime Minister Numan Kurtulmus said that the attack was "extremely planned and organized" and that it was carried out with the aid of an intelligence organization.
BREAKING: Main suspect in New Year's Eve attack on #Reina nightclub in #Istanbul captured. – Reuters | #Turkey pic.twitter.com/fWP19qXmOx

— Middle East Monitor (@MiddleEastMnt) January 16, 2017