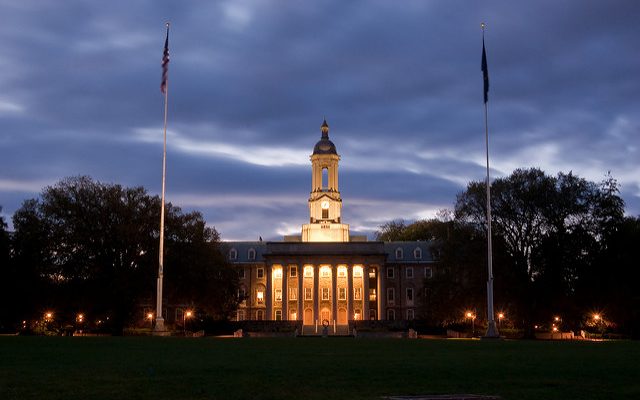 "Old Main at Penn State" Courtesy of shidairyproduct : License (CC BY 2.0)
Schools
Why Didn't Anyone Help Timothy Piazza?
By
|
Why did no one help Timothy Piazza?
That's the frequently repeated question as more and more disturbing and graphic details surface regarding the 19-year-old Penn State sophomore's tragic hazing death.
According to a document released Friday by Centre County District Attorney, Stacy Parks Miller, the brothers of Beta Theta Pi waited 12 hours before calling for medical help after Piazza fell 15 feet, head first, down a flight of basement stairs during a pledging ceremony.
Here's what you need to know from the grand jury findings into the death of Penn State sophomore Timothy Piazza: https://t.co/RSqrK46UOS pic.twitter.com/Jj6cAvKPaB

— The Daily Collegian (@DailyCollegian) May 8, 2017
After reading through the 81-page court document–that is largely based on surveillance video tape from inside the fraternity house and text messages between brothers–it's clear that the fraternity brothers had multiple chances to possibly save Piazza's life, but instead they for the most part did nothing–in fact, they likely made his injuries worse.
On February 2, Piazza participated in a ritual that fraternity members refer to as "the gauntlet." Pledges were forced to go to a series of alcohol stations where they had to guzzle vodka, shotgun beers, drink from wine bags, and play multiple rounds of beer pong–drinking four to five drinks in a two-minute span.
By 10:40 p.m., Piazza is seen on the fraternity's security camera extremely intoxicated, hunched over, and staggering. Roughly five minutes later he is seen moving out of the camera's sightline, then a fraternity brother points "agitatedly in the direction of the basement stairs."
In a group message to the brothers, one of them wrote: "Also Tim Piazza might actually be a problem. He fell 15 feet down a flight of stairs, hair-first, going to need help.
No one called an ambulance.
Instead, the members of Beta Theta Pi are seen carrying Piazza's limp, seemingly unconscious, body to a nearby couch, where they then strip him of his shirt. A large visible bruise can be seen developing on his abdomen.
Kordel Davis, a newly initiated brother, testified that after seeing Piazza on the couch, he screamed repeatedly for someone to call 911, and pleaded with his fellow brother to get help. But they ignored him and called him "overdramatic."
Still, no one called an ambulance.
The brothers poured liquid on Piazza's face to try to wake him up, slapped him in the face, and struck his bruised abdomen. They even attached a weighted backpack to his back to prevent him from rolling over and possibly choking on his own vomit.
Eventually, around 3:22 a.m., Piazza attempts to stand up clutching his abdomen, but falls backwards and strikes his head on the hardwood floor. Thirty minutes later he tries to stand again and falls face down on the floor. He staggers to the lobby and falls head first into an iron railing before falling to the floor.
At 5:15 a.m., a fraternity brother steps over Piazza's body on his way to the kitchen for a drink of water.
He didn't call for help.
Piazza would eventually fall down the basement stairs once more, striking his head yet again. It wasn't until 10:48 a.m. that someone eventually called 911. But by then, the damage was done. He died the next morning at the hospital.
Doctors would later find 4 liters–roughly 80 percent of a human body's total blood supply–of dark, old blood in Piazza's abdomen. He suffered multiple traumatic brain injuries, a fracture at the base of his skull, and suffered respiratory failure as a result of his severe head trauma.
Penn State students and State College community members gather in memory of Timothy Piazza (https://t.co/Ww2hYi1PLv) via: @PennLive pic.twitter.com/u3RJIHGisF

— Cameron Hart (@Cameron_Hart_) February 13, 2017

Authorities announced more than 850 charges for Beta Theta Pi and 18 of its fraternity members involved in the "pledge night" that resulted in Piazza's death.
Eight of the fraternity members were charged with involuntary manslaughter. The other charges include: aggravated assault, simple assault, recklessly endangering another person, hazing, furnishing alcohol to minors, unlawful acts relative to liquor, tampering with evidence, consumption of alcohol by a minor, and disorderly conduct.
The sad thing is, this death could have been prevented. If one person had stood up to the group and gotten help, Piazza, who went by Tim, could still be alive today. Instead, his injuries were trivialized by students who were concerned more about themselves than helping someone who was trying to be their "brother."
The Penn State chapter of the fraternity has since been disbanded, and the school's president has threatened to shut down all Greek life on campus.