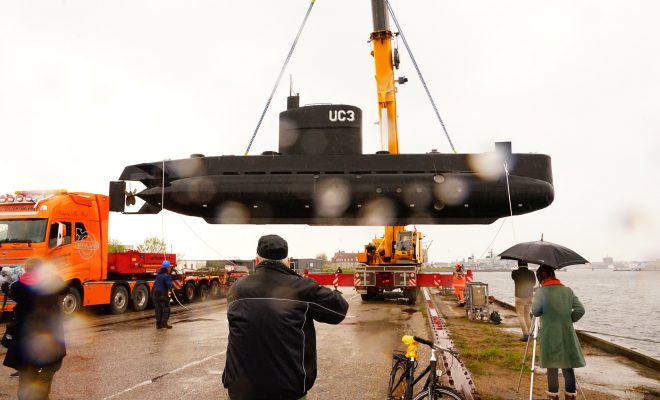 Image courtesy of rml spacelab; license: (CC BY 2.0)
Weird News
Did a Danish Inventor Kill a Female Journalist on His Homemade Submarine?
By
|
A story involving an inventor, a missing female journalist, and a sunken submarine has gripped the people of Scandinavia. But despite what it sounds like, it's not a crime novel or an action movie. Danish inventor Peter Madsen has been charged with involuntary manslaughter after taking a Swedish journalist, Kim Wall, out for a ride in his self-made submarine.
Early Saturday morning, Wall's boyfriend reported her as missing, because she hadn't returned home the night before. A search and rescue operation began, and Madsen was discovered sitting on a sinking submarine. He jumped off the sinking vessel near Copenhagen, just as rescue boats approached.
Later on Saturday, the submarine, called UC3 Nautilus, was recovered from the bottom of the sea, but no body was found inside and there's no chance to recover any potential DNA evidence because it would have been washed away. Madsen claims technical issues sank the submarine.
Madsen also said that he dropped Wall off outside a restaurant on the mainland at 10:30 p.m. on Friday. But she hasn't been seen since a passerby snapped a photo of the two on the submarine tower before they left the Copenhagen harbor on Thursday.
A Danish submarine inventor has been charged in the death of Kim Wall, a journalist. But her body is still missing. https://t.co/hWTvDNuCLg pic.twitter.com/1i2IKQqIge

— New York Times World (@nytimesworld) August 13, 2017
Danish police believe Madsen may have accidentally killed Wall and then tried to cover his tracks by sinking the submarine. They said they still hope to find Wall alive, but that they are prepared for the worst case scenario. Madsen is denying any wrongdoing.
Wall is a 30-year-old Swedish freelance journalist who graduated from Columbia University in New York and has worked with publications like the New York Times, Vice, and Time.
According to Swedish media, Wall was in the submarine with Madsen as part of her research for an upcoming article about Madsen and his new space project. Madsen also reportedly gave a second explanation of when and where he supposedly dropped Wall off on the Friday evening, but the police have not revealed any details about that version.
Kim Wall remains missing. Please share her photo with anyone you might know in Denmark. https://t.co/ercjiTclmM

— Jenny Hollander (@_JennyHollander) August 12, 2017
Madsen is known as a "hobby engineer" with "low social skills," who is currently attempting to build space rockets. His nickname in Denmark is Rocket Madsen, and he is currently running Rocket Madsen's Space Laboratory, which aims to become the first non-governmental and volunteer-only organization to send humans to space.
In 2014, he started a crowd-funding page attempting to raise $50,000 for the refurbishment of the submarine. He only raised $6,170. But 10 volunteers worked on finishing the refurbishment, which actually ended in an ownership dispute. Nautilus was initially built as a hobby project by a group of enthusiasts, which included Madsen. But after the dispute, the ownership was transferred to Madsen. After that he allegedly said, "You may think that a curse is lying on Nautilus. That curse is me. There will not be peace on Nautilus for as long as I exist." That eerie statement sounds even more harrowing today, as the search for Wall continues.