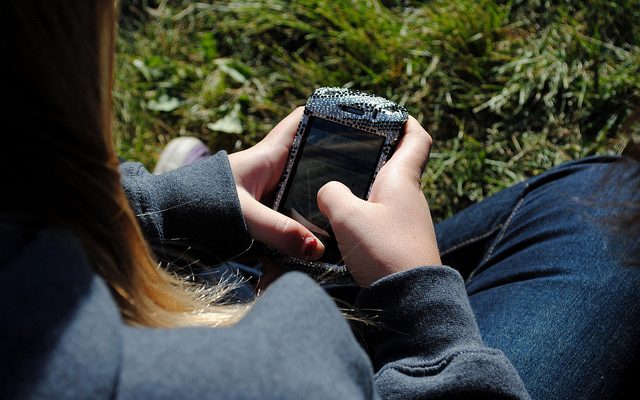 "Texting" Courtesy of Brandon Giesbrecht License: (CC BY 2.0)
Crime
Michelle Carter Sentenced to 2.5 Years in Prison in Texting Suicide Case
By
|
Michelle Carter, the Massachusetts woman who urged her boyfriend to commit suicide through text messages, was sentenced to two and half years in prison on Thursday. However, the now 20-year-old Carter won't serve any time until her appeals are finished. If Carter still has to serve prison time after those appeals, she will only serve 15 months in prison at first, with the balance of that sentence suspended until August 1, 2022.
In June, Bristol County Juvenile Court Judge Lawrence Moniz found Carter guilty of involuntary manslaughter in the death of her boyfriend, 18-year-old Conrad Roy III. Carter, who was 17 at the time, repeatedly texted her boyfriend as he contemplated suicide. Initially, she urged Roy to seek medical help for his suicidal thoughts and discouraged him from harming himself. However, a couple weeks later, Carter began urging Roy to kill himself and actually discussed how to use carbon monoxide.
On the day of his suicide, when Roy expressed that he was scared to go through with it, Carter "told him to get back in" the truck. Roy was found dead from carbon monoxide poisoning in July 2014 after he filled his truck with the toxic gas. When delivering his verdict back in June, Moniz said that "instructing Mr. Roy to get back in the truck constituted wanton and reckless conduct," ABC News reported.
According to Buzzfeed, Moniz ordered Carter to abstain from any contact with Roy's family and her friends who testified against her. He also ordered Carter not to try to profit off of the case, such as through movie or book deals, as part of her sentence.
Roy's family members read statements in court before Moniz delivered his sentence.
"She exploited my son's weaknesses and used him as a pawn in her own well-being," Roy's father said, according to Buzzfeed.