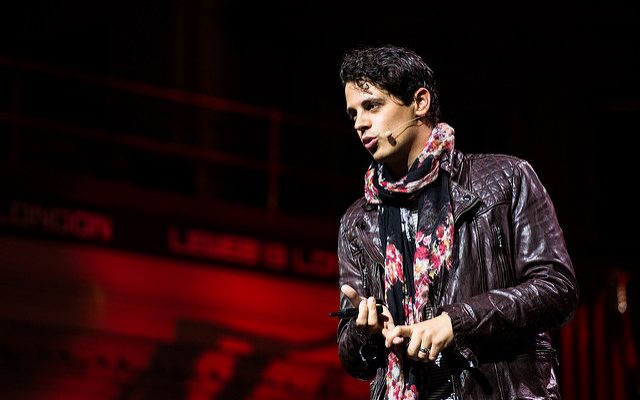 Image Courtesy of @Kmeron; Licence (CC BY 2.0)
Schools
Milo Yiannopoulos Fan Sues UC Berkeley Over Violent February Protests
By
|
A Milo Yiannopoulos supporter filed a lawsuit on Monday against regents of the University of California, Berkeley for $23 million. Kiara Robles, the plaintiff, says the school infringed on her First Amendment rights when a protest erupted on campus last February.
The protest, which drew over 1,500 students, was a response to the controversial invitation the Berkeley College Republicans student group sent to Yiannopoulos, asking him to speak at the campus. Yiannopoulos, a long-standing fan of President Donald Trump and a self-described cultural libertarian, is a former senior editor of alt-right media source Breitbart.
He gained prominence because of his highly controversial comments on women, Islam, homosexuality, and religion. He once said "gay rights have made us dumber" and called transgender people mentally ill.
Robles was pepper-sprayed during the Berkeley protest and says she and her friends were targeted during the clash because they hold and express conservative views. She was planning on attending Yiannopoulos' talk before the Berkeley police department canceled the event citing security concerns.
More peaceful protests mad at capitalism. #miloatcal pic.twitter.com/1qrdJ5zeJ8

— Kiara Robles ಠ_ಠ (@kiarafrobles) February 2, 2017
https://twitter.com/kiarafrobles/status/827418775230099456
The lawsuit states that the defendants, which includes local law enforcement, billionaire George Soros, and House Minority Leader Nancy Pelosi for allegedly institutionalizing Robles' concerns, have subjected "students and invitees who do not subscribe to the radical, left wing philosophies … to severe violence and bodily harm for merely expressing a differing viewpoint."
"She was assaulted," Robles' lawyer told The San Francisco Chronicle on Wednesday. "The California university system, and in part, Berkeley, is out of control, and they're facilitating, if not inciting, violence, and the campus police sit around twiddling their thumbs."
The university said in a statement that it will mount a strong defense "contesting this collection of false claims."
This lawsuit comes at a time when freedom of speech debates are increasingly common on college campuses and the media. Liberal students' requests for "safe spaces" and outright bans on perceived hate speech have raised questions regarding whether or not other students' freedom of expression rights are being curtailed.
Hitting at the heart of the debate and opposing Robles, Jonathan Gow, a UC Berkeley sophomore, said "when it's hate speech, our free speech is to shut him down," about the Yiannopoulos protests at Berkeley.
Last Friday, late-night talk show host Bill Maher, who said he would soon invite Yiannopoulos back on his show, was caught up in a similar controversy when he said the N-word on live television. Many outraged viewers called for his show to be canceled or for him to step down, while others said self-censorship of this word placed a limitation on individual freedom of speech.
Yiannopoulos has often found himself at the center of these debates, on and off campuses. Recently, he announced he would resort to self-publishing his new book "Dangerous" after the provocateur lost his controversial Simon and Schuster book deal when videos surfaced of him seemingly defending pedophilia. On Tuesday, the book was at the top of Amazon's best-seller list in the humor category.