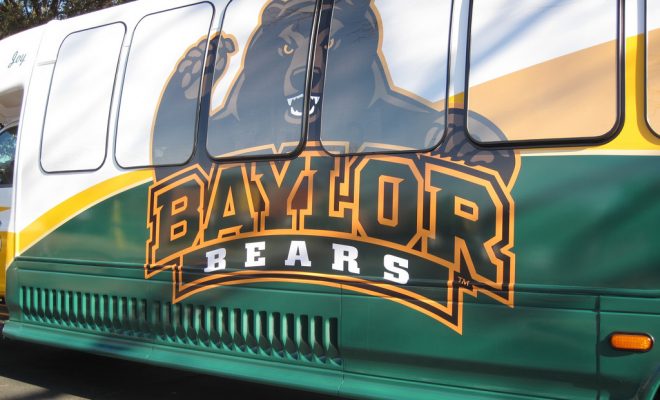 "Bears on the Bus" courtesy of Alan Levine; license: public domain
Schools
Lawsuit Accuses Baylor Football Players of Gang Raping Women as Bonding Ritual
By
|
A federal lawsuit has been filed against Baylor University, accusing football players at the school of engaging in gang rape as a rite of passage, and the school of doing nothing to prevent it.
The alleged rapes happened when Art Briles was head coach of the team and Kenneth Starr was president of the university. Briles was suspended a year ago, and Starr lost his position as president but remained a law professor at the school until last August, when he resigned.
Jane Doe, the anonymous woman who filed the lawsuit, claims that she was drugged and gang raped by four to eight Baylor football players in February of 2012. She alleges that the players then burglarized her apartment and harassed her through text messages until she left school the next year.
Jane Doe confirmed that at least one, 21-second videotape of two female Baylor students being gang raped by several Baylor football players was circulated amongst football players. The suit also alleges that Baylor football parties often involved dogfighting–at least once, a dog was so severely injured it almost died.
The lawsuit contends that Briles was fully aware of the alleged gang rape, and includes text messages between him and an assistant coach, in which Briles calls the woman a "fool" for reporting the burglaries to the police.
Baylor athletes gang-raped women as a 'bonding' experience: lawsuit. They allegedly called it 'playtime.' https://t.co/qXnSpRkxWl pic.twitter.com/ICcJ0c8gFU

— Kate Briquelet (@kbriquelet) May 18, 2017
Allegations of sexual assault at the Christian university began to surface in 2012. Baylor student Jasmine Hernandez accused football player Tevin Elliott of raping her twice at a party. He was convicted in 2014 of two counts of sexual assault and sentenced to 20 years in prison.
In 2013, a female soccer player reported that she was sexually assaulted by football player Sam Ukwuachu. He was convicted in 2015,  and sentenced to six months in jail and 10 years probation.
Hernandez, who publicly disclosed her name, sued the school last year for failing to investigate her claims–Briles and Starr were fired not long after.
Another woman, who was identified under the pseudonym Elizabeth Doe, also filed a lawsuit against Baylor earlier this year, alleging that football players had gang-raped her in 2013. She stated in the lawsuit that 31 players had committed at least 52 rapes, including gang-rapes, between 2011-2014.
Elizabeth Doe's lawsuit accused the school of using sex as a way to sell the football program to prospective students. It described how Kendal Briles, a former assistant football coach and son of former head coach Art Briles, asked a recruit, "Do you like white women? Because we have a lot of them at Baylor and they love football players."
Also in @Baylor lawsuit: Woman got school counseling. Says unnamed counselor talked stats of women who don't report rape to dissuade her

— Jim Vertuno (@JimVertuno) May 17, 2017
Jane Doe's lawsuit described many of the same elements–likening rape culture at the school to a hazing ritual. She alleges that organized gang rapes were considered to be a "bonding" experience for the players. Her suit also alleges that the older players brought underage recruits to strip clubs. They also had a "hostess program" that allegedly made sure women had sex with the recruits during their visits to campus.
After the allegations against Baylor became known, the school's board said it was "horrified" and "outraged" to learn what was happening on campus.
Briles filed a lawsuit himself in December, accusing the school of libel. But he quickly dropped the suit after the university released text messages between the assistant coach, the athletic director, and him, that showed how they all did their best to avoid contact with law enforcement and encouraged victims to not press charges.
Jane Doe's suit claims that school officials encouraged the plaintiff and her family not to report the assault to law enforcement. But the school says it will do all it can to ensure that things are made right.
"The University's response in no way changes Baylor's position that any assault involving members of our campus community is reprehensible and inexcusable," the school said in a statement.