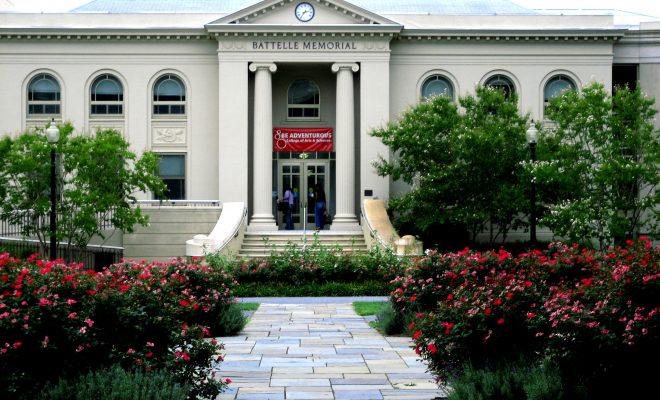 Image Courtesy of Senordesupremo : License Public Domain
Schools
American University Left Reeling After Bananas Found Hanging From Nooses
By
|
On Taylor Dumpson's first day as American University Student Government (AUSG) President, bananas hung from strings tied in the shape of nooses around campus.
The bananas were found at three different locations on campus. Photos of the bananas on social media appear to show several racist messages written on them in black sharpie, like "Harambe bait," an apparent nod to the gorilla that was shot and killed at the Cincinnati Zoo last year, and "AKA free"–AKA is the acronym for Alpha Kappa Alpha, the first predominately black greek lettered sorority in the United States.
The timing isn't coincidental. Dumpson, the first black woman to hold office as AUSG President, is a member of AKA.
.@AmericanU @washingtonpost @CNN @nytimes @TheYoungTurks pic.twitter.com/QULz5UNIXc

— Lud Blo (@KingPablo26) May 1, 2017
In a statement to her fellow students on Monday, Dumpson addressed the incident, writing:
It is disheartening and immensely frustrating that we are still dealing with this issue after recent conversations, dialogues, and town halls surrounding race relations on campus. But this is exactly why we need to do more than just have conversations but move in a direction towards more tangible solutions to prevent incidents like these from occurring in the future.
She then urged students to unite in solidarity and "show those in the community that bigotry, hate, and racism cannot and will not be tolerated."
University President Neil Kerwin also denounced the incident as a "crude and racially insensitive act of bigotry" in a statement Monday. Kerwin said the incident is currently under investigation by the AU Campus Police with assistance from the D.C. Metropolitan Police Department (MPD) and other AU offices and senior officials.
AU students were outraged by the incident and organized a march Tuesday to the university's main campus, where they demanded withdrawal forms as a symbolic act of protest. As they marched, students chanted "Black Lives Matter" and "Hey, hey, ho, ho! That racist s— has got to go."
Students walk with fists raised and chant "I'm black and I'm proud" as they march to Asbury to request withdrawal reforms as act of protest pic.twitter.com/8LKXOrTnUd

— The Eagle (@TheEagleOnline) May 2, 2017
Student demonstrators at @AmericanU hold up withdrawal forms, chant "Black Lives Matter" as they head back to @AUKayChapel pic.twitter.com/6jbaxOBlNz

— The Eagle (@TheEagleOnline) May 2, 2017
According to American University's student paper, The Eagle, the protest later erupted into heated exchanges with American University administrators, as students delivered a list of demands regarding diversity, divestment, and financial aid.
Students engage with Associate Dean of @AUcollege Celine-Marie Pascale following delivery of list of demands pic.twitter.com/mRJ67B2ETI

— The Eagle (@TheEagleOnline) May 2, 2017
American University Public Safety Director Phillip Morse announced a $1,000 award for anyone who brings forth information about yesterday's incident during a campus community meeting Tuesday afternoon. But students aren't convinced that the racial tension on campus will subside.
In fact, this is the third racist incident on the campus in eight months. In September, a black female freshman, who had not been identified at the time, reported that a group of people opened the door to her dorm and threw a rotten banana at her. Neah Gray, another freshman, said she also found a banana outside her dorm door and penises drawn on her white board that same month. Gray called the recent incident "triggering" on her personal Twitter account.
The last time there were no consequences. AU did nothing. All that publicity did was leave 16 Google pages of my name in articles about it.

— ⚡️ (@graaayscale) May 1, 2017
The school Department of Public Safety said it is investigating and reviewing surveillance video, and will continue to share more information and release photos as they become available.