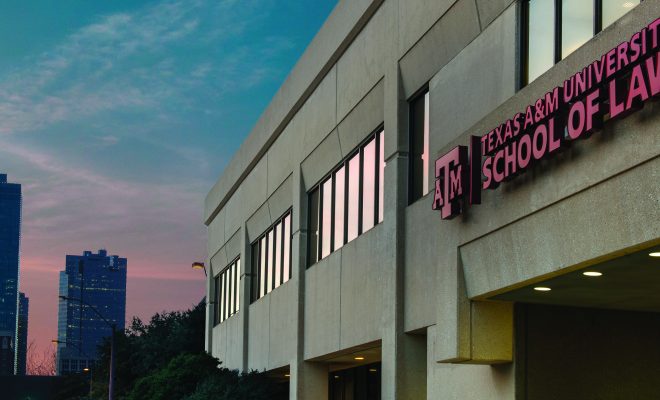 Image courtesy of Texas A&M Law
Schools
7 Ways Texas A&M is Using the Digital Era to Change Legal Education
By
|
Sponsored Content
Chocolate and sea salt, Supreme Court Justices Antonin Scalia and Ruth Bader Ginsburg, legal education and technology…these are all pairings that at first glance don't seem like they mix together too well, but truly are the perfect combinations. And while legal education has traditionally been a field that hasn't necessarily embraced the latest offerings in technology, one school in particular has broken away from the pack, and has begun offering innovative programs to students that embrace the power of technology. Texas A&M University School of Law has designed four programs–an LL.M. in Risk Management, an M.Jur in Risk Management, an LL.M in Wealth Management, and an M.Jur in Wealth Management–that use technology to bring innovative legal education to both lawyers and non-lawyers looking to expand their educations and skill sets.
So what is Texas A&M doing that is so innovative? Check out seven ways that the school is changing legal education through the power of technology below:
Texas A&M Has Not Just One, but Two In-Demand Programs
Texas A&M's Distance Education Program has two distinct but related programs: Risk Management and Wealth Management.
A degree in Wealth Management, a field that encompasses financial planning, investment portfolio management, and other financial services, can be beneficial to individuals working in positions such as chief financial officers, financial officers, and business analysts. Lawyers and non-lawyers alike have to traverse a complicated landscape of financial regulation and rules; a degree in wealth management helps build connections and skills that will make it easier to do so.
A degree in Risk Management, a field which aims to identify and mitigate financial risks, can provide a strong background for students in a wide variety of issues, like compliance, fiduciary management, corporate governance, and anti-money laundering. This program is open to lawyers and non-lawyers who work as compliance officers, risk specialists, or as fraud/anti-money laundering analysts. According to Texas A&M:
Risk Management is a growing field with employment prospects expected to increase by 30 percent over the next ten years. As Risk Management become more intertwined with legal regulation, industry professionals look to legal education for training. Texas A&M is uniquely positioned to provide education not only to those who are licensed attorneys, but other professionals who need legal training but are not interested in the practice of law.
Still not sure? Here's someone who needs both a wealth and risk manager:

But I have a job and I'm not in Texas.  How would I get these degrees?
The four degrees offered by Texas A&M are online, flexible, and designed specifically with working professionals' busy schedules in mind. Each program takes approximately six semesters to complete, but there's enough flexibility to allow students to work at their own pace.
The classes are in an asynchronous format, meaning that students can work at their own paces, completing assignments and listening to lectures. Have a busy couple days of meetings and deadlines? That's fine–you can schedule yourself to get your work done ahead of time. Have some free time now? Tackle a hard section and set yourself up for smooth sailing the rest of the week.
Texas A&M wants to make it as easy as possible for students to take advantage of these degree offerings.

Why are the same programs open to both lawyers and non lawyers?
The field of law doesn't exist in a vacuum; neither do the fields of wealth management or risk management–many jobs are a lot more complicated than that. Lawyers can be asked to weigh in on questions that require more knowledge than just what they received in law school; other executives have to deal with complicated (and potentially costly) legal questions.
Lawyers can benefit from augmenting their legal expertise with applied knowledge from other fields. Non-lawyers will receive legal training in their specific specialties without attending law school. Both lawyers and non-lawyers will gain practical skills, new networks, and open themselves up to new career opportunities.
Lawyers who complete the Wealth or Risk Management programs will receive an LL.M.; non-lawyers will receive an M.Jur.
Who teaches these Courses?
How do incredibly qualified and dynamic world class professors sound? William H. Byrnes, a pioneer in online legal education, designed the programs at Texas A&M. According to the National Journal, "Perhaps no one in legal academia has more experience with online master's degrees than William Byrnes."
Byrnes, an Executive Professor and Associate Dean, said about the program:
Our ultimate goal is to enable professional and graduate students to completely confront the complexities of programs such as modern wealth management and risk management, and to prepare them for successful careers as well as for independent, lifelong learning.
In addition to Byrnes' expertise, the programs also feature classes taught by Robert Bloink, Richard Kravitz, and George Mentz, all experts in their respective fields.
The Tech is Top of the Line
A lot of people have one big concern with online courses: how can the experience of learning behind a computer screen possibly compare to in-class learning?
Texas A&M has put a lot of time and effort into making sure that students receive an unparalleled distance learning experience. All of the courses included in both the wealth and risk management programs benefit from 24/7 tech support, and students receive an orientation upon enrolling to make sure that they know how to use all the applicable technology.
Moreover, Texas A&M makes sure that the tech used improves the educational experience, rather than hindering it. The curricula are designed to facilitate teamwork and interaction.
What if I need still a Hand?
There's lots of help to be had! One of the benefits of the online programs is that each student has a personal resource at the school in the distance education office to help you every step along the way. Texas A&M Law wants to make sure that you succeed from day 1 with top-notch, hands on advisors.
Access to the Aggie Network
Texas A&M has a massive alumni network–the Aggie Network, that students who participate in the Distance Education Programs become members of upon graduation. The Aggie Network is composed of almost 400,000 alums–an unparalleled networking and support community.
Specifically for lawyers there's also the Texas Aggie Bar Association for even more networking purposes.
Plus, you get an awesome ring.
Get more information on Texas A&M's Distance Education Programs