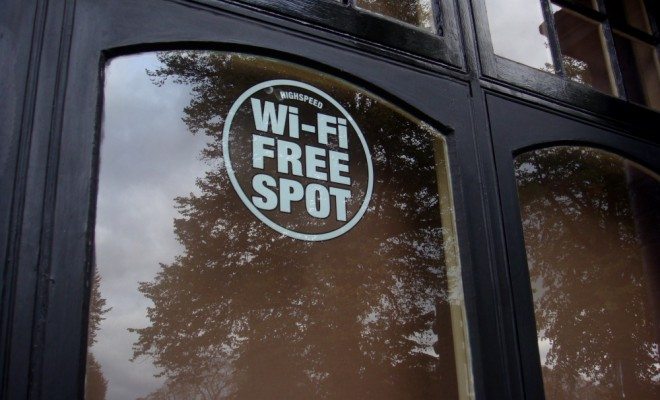 Image courtesy of [waldopepper via Flickr]
News
Will Internet Access in Public Housing Bridge the Digital Divide?
By
|
President Obama announced on Wednesday the development of a pilot program to expand broadband access for people who live in public housing. This is the latest effort to bridge the "digital divide" between the rich and the poor.
The plan, called ConnectHome, will launch in 27 cities nationwide. With assistance from mayors, internet service providers, and other companies and nonprofits, the Department of Housing and Urban Development will make it cheaper and easier for more than 275,000 low-income households with almost 200,000 children to get internet at home, the White House said in a statement Wednesday.
The plan is consistent with a broader White House goal to upgrade the nation's technology infrastructure, bringing high speed internet to every corner of the country.
There are already a few internet service providers that have committed to ConnectHome. Google in Atlanta, Durham, Kansas City, and Nashville will provide free internet internet connections in some public housing. Sprint Corp will offer free wireless broadband access to families with kids in public housing. In Seattle, CenturyLink will provide broadband service for pubic housing residents for $9.95 a month for the first year. Cox Communications is offering home internet for $9.95 a month to families with children in school in four cities in Georgia, Louisiana, and Connecticut. President Obama spoke about the program in Durant, Oklahoma where the Choctaw Tribal Nation is working with four local providers to bring internet to 425 homes.
The program is an extension of the president's ConnectED initiative, which was announced in 2013 and aims to link 99 percent of students from kindergarten through 12th grade to high-speed internet in classrooms and libraries over the next five years. 
The announcement was timed to coincide with the release of a report from the White House Council of Economic Advisers, which highlights how low-income families in America do not benefit from high-speed broadband, despite the recent increase in internet usage in the past few years. Nearly two-thirds of the lowest income households own a computer, but less than half have a home internet connection. A news release about the report said:
While many middle-class U.S. students go home to Internet access, allowing them to do research, write papers and communicate digitally with their teachers and other students, too many lower-income children go unplugged every afternoon when school ends. This 'homework gap' runs the risk of widening the achievement gap, denying hardworking students the benefit of a technology-enriched education.
At the peak of the digital age, those who cannot access the internet are unintentionally falling behind. They are falling victim to the "digital divide" that occurs when lower income families aren't able to utilize the same resources as families in higher income brackets. The internet is used for everything these days–it is used to stay in contact with family and friends, complete homework assignments, play games, go shopping, apply for jobs, read books, play music, and expand our worlds. Low income families who don't have access to these tools will hopefully soon be able to close that gap as a result of ConnectHome and similar programs.