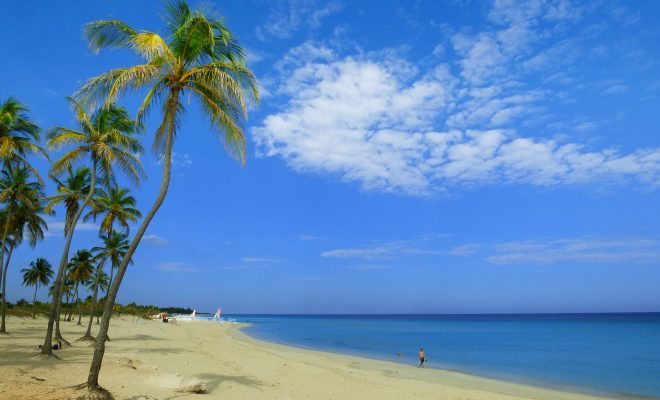 "Caribbean beach series .. Cuba" courtesy of [Nick Kenrick via Flickr]
News
U.S. Approves Direct Flights From 10 Cities to Havana
By
|
About a year after resuming the diplomatic relationship with Cuba, the U.S. government has just approved direct commercial flights from 10 American cities to Havana. This is yet another step toward thawing a relationship that has been icy since 1961.
A statement by the U.S. Department of Transportation reads:
Today we take another important step toward delivering on President Obama's promise to reengage Cuba […] Restoring regular air service holds tremendous potential to reunite Cuban American families and foster education and opportunities for American businesses of all sizes.
Officials first signed an agreement to open up American flights to Cuba in February—for the first time in more than half a century. Last month, the Transportation Department approved flights to other cities in Cuba, but now the time has come to allow air travel to the the capital city, Havana. American Airlines will receive the biggest share of flights, at 35 per week, closely followed by JetBlue with 27.
Thinking about traveling to #Cuba? Watch this video from @USEmbCuba on 5 things to know before you go! https://t.co/mHQ429chlC

— Travel – State Dept (@TravelGov) July 7, 2016
The American cities that the flights will depart from are: Atlanta, Charlotte, North Carolina, Houston, Los Angeles, Newark, New Jersey, New York, Orlando, Tampa, Miami, and Fort Lauderdale.
Florida has the highest Cuban-American population in the U.S., and so four cities will launch the most flights, at 85 per week. Demand will be high from Cuban-Americans, according to the Miami Herald.
Since Fidel Castro seized power and started collaborating with the Soviet Union in the early 1960's, there has been mutual mistrust and economic sanctions on Cuba. The trade embargo also meant a travel ban, so that Americans could not visit the island legally.
When Obama came into office, he started working towards easing the bans and sanctions, in an effort to normalize the relationship. In 2009 he lifted the travel ban for Cuban-Americans, making it easier for people to visit relatives and travel freely.
La Habana, Cuba – Raw & Beauty, Old Glory | GLOB▲L – M▲G▲ZINE https://t.co/rW8jNvTa6z pic.twitter.com/8ABATUhrIa

— Be ▲rtist Be ▲rt (@BeArtist_BeArt) July 7, 2016
However, the ban on American tourism in Cuba is still in place, so airlines will be required to record the reason why passengers are traveling there. But if you don't have relatives on the island and want to visit, don't fret. There are 12 scenarios where you could still be allowed to visit. For example, you're ok to go if it's for religious activities, to make a public performance, or compete in an athletic competition.
The decision about the flights won't be final until after a 30-day trial period during which potential complaints or objections will be handled. The first U.S. to Cuba flight is scheduled to fly from Fort Lauderdale to Santa Clara in September.