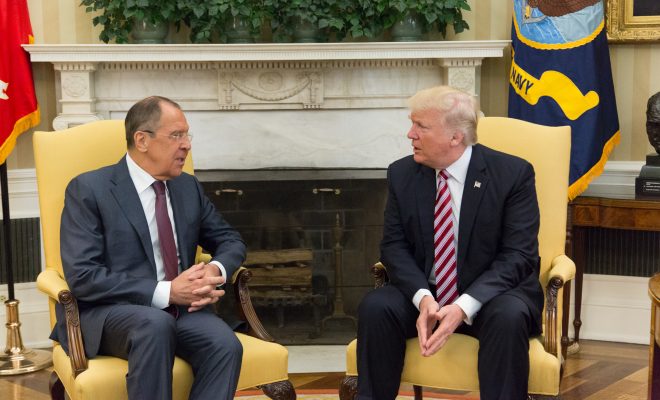 Image Courtesy of Shealah Craighead; License: public domain
Politics
Trump Signs "Significantly Flawed" Russian Sanctions Bill
By
|
President Donald Trump reluctantly signed a bipartisan bill Wednesday morning that imposes additional sanctions on Russia. The bill, which also levies sanctions on North Korea and Iran, severely limits Trump's ability to lift Russian sanctions in the future. Between the House and Senate, 517 members of congress supported the bill, giving Trump pretty much no choice but to sign it.
The bill represents a rare showing of bipartisanship–and of congressional Republicans' willingness to stand up to the Trump Administration. Republicans, traditionally hawkish on Russia, have until now overlooked Trump's repeated overtures to Russian President Vladimir Putin–during the campaign and his presidency–in order to pursue other legislative goals.
The new sanctions target Russia's energy and defense sectors, but perhaps more important than the sanctions themselves, the bill gives Congress the final say if the president decides to lift sanctions. Congress would have a 30-day review period to consider any such actions by Trump or future presidents. The administration has decried this part of the bill as "unconstitutional," as it unfairly limits the president's flexibility on matters of foreign policy.
In a statement released Wednesday after Trump signed the legislation, the White House said the bill contained "a number of clearly unconstitutional provisions" that "purport to displace the President's exclusive constitutional authority to recognize foreign governments, including their territorial bounds."
Speaker of the House Paul Ryan (R-WI) said the bill sends a "powerful message to our adversaries that they will be held accountable for their actions." He added: "We will continue to use every instrument of American power to defend this nation and the people we serve."
After signing the bill, Trump released a second statement calling it "seriously flawed" because it "encroaches on the executive branch's authority to negotiate." He went on to deride Congress for its failure to pass health care legislation: "Congress could not even negotiate a health care bill after seven years of talking," he said.
Since 2014, when Russia annexed Crimea and fomented a separatist rebellion in eastern Ukraine, Washington has been engaged in a diplomatic tit-for-tat with Moscow. Last December, after it became clear Russia meddled in the 2016 election, former President Barack Obama increased Russian sanctions. He also expelled Russian diplomats and seized two of its diplomatic compounds.
The Kremlin retaliated with measures of its own over the weekend, ordering the U.S. to slash its diplomatic staff throughout Russia by 755. It also seized two properties used by U.S. diplomats. On Wednesday, after Trump signed the bill into law, Russian officials offered ominous signs, with Prime Minister Dmitry Medvedev saying it amounts to a "full scale trade war."
And Vassily Nebenzia, Russia's ambassador to the United Nations, added his two cents: "Some U.S. officials were saying that this is a bill that might encourage Russia to cooperate with the United States; to me that's a strange sort of encouragement," he said. "Those who invented this bill, if they were thinking they might change our policy, they were wrong."