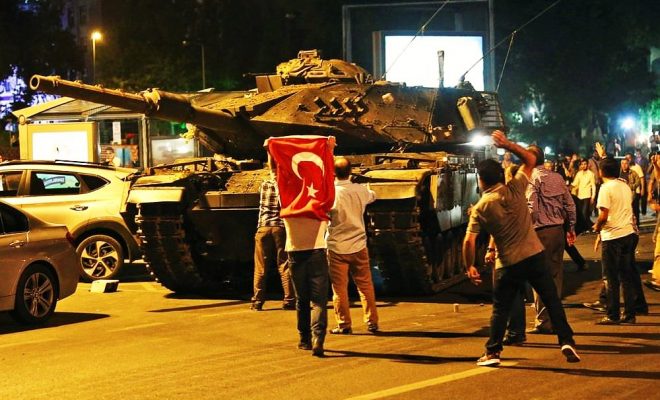 Image Courtesy of Myigitdocumenter : License Public Domain
News
Turkey Jailed Record Number of Journalists in 2016, CPJ Says
By
|
Freedom of speech is at an all-time low worldwide, according to an annual report from the Committee to Protect Journalists (CPJ). As of December 1, 2016, there are 259 journalists imprisoned internationally, with Turkey accounting for nearly a third of the global total–making 2016 the worst year for journalists since the watchdog group began in 1990.
In its annual census, CPJ named Turkey as the most hostile nation against free press, with at least 81 imprisoned journalists facing anti-state charges–the highest number in any one country at any one time. Ranked 151st out of 180 in the World Press Freedom Index, unprecedented levels of suppression and intimidation tactics are troubling signs of President Recep Tayyip Erdoğan's growing authoritarianism.
According to the CPJ, the arrests have accelerated due to an ongoing crackdown on media in Turkey following a failed coup d'état in July. By government decree, Erdoğan has bypassed Turkey's judicial system to lawfully prosecute independent media companies for even remotely criticizing the establishment. These mandates have been justified by his administration as security measures against Kurdish insurgents or sympathizers of Fethullah Gülen, the self-exiled religious cleric living in rural Pennsylvania who is accused of masterminding the unsuccessful junta this past summer.
Reporters Without Borders is another organization keeping an eye on Erdoğan's political developments. In November, the group condemned the arrests of ten employees at the Cumhuriyet opposition newspaper. Government forces raided the publication on November 5 for its perceived connections to the Kurdistan Workers' Party (PKK) and the Gülen movement–both of which are outlawed in Turkey. The opposition newspaper was accused of "undermining national unity" and spreading propaganda for these alleged terrorist organizations.
Another anti-terrorism investigation involved the pro-Kurdish newspaper Özgür Gündem, whose print version has a circulation of roughly 7,500. Police stormed the paper's offices and arrested 24 people after ruling that the paper acted as the "de facto news outlet" for Kurdish rebels. TurkSat, Turkey's sole communications satellite operator, also removed more than a dozen independent TV and radio stations from its lineup due to allegations of "separatism and subversion."
"The Turkish government's decision to silence still more media outlets shows its growing intolerance of open political debate and dissent of any kind," said Robert Herman, CPJ's vice president of international programs. "The government this time targeted stations broadcasting in Kurdish and showed its disregard for the principles of democracy."
This past year CPJ Europe and Central Asia Program Coordinator Nina Ognianova testified to the U.S. House Foreign Affairs Committee against Turkey's media purge. Ognianova told the committee that Turkish authorities have detained more than 100 journalists, closed more than 100 media outlets, censored approximately 30 online news sources, and retracted more than 600 press credentials, since the failed coup attempt on July 15. Passports have also been reported as confiscated, including those belonging to family members of prominent critics of Erdoğan's establishment. Such hostility is motivating many to go into exile or flee the country.
After Turkey, the countries with next highest numbers of jailed journalists are China and Egypt. China has frequently been named the world's worst jailer of journalists in previous years, making the top spot 18 times to be exact. A total of 38 journalists were jailed in the country this year, due in large part to a crackdown on coverage of human rights abuses. As for Egypt, 25 were detained for reporting from prohibited areas in the country.
CPJ monitors nations around the world, paying close attention to journalists in government custody. Those held by non-state actors are not included in the list. Arrest statistics are incorporated into the report after the CPJ has verified that individuals were jailed for charges relating to their work.