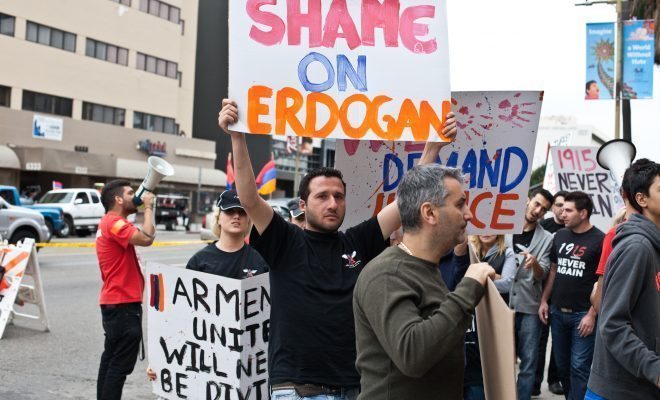 "IMG_6673" courtesy of  [mrsamisnow via Flickr]
News
Turkey Angered by Germany's Recognition of the Armenian Genocide
By
|
The German parliament passed a resolution on Thursday to recognize the 1915 mass killings of Armenian people as "genocide," sparking a backlash in Turkey. The motion was put forward by Chancellor Angela Merkel's ruling coalition together with one opposition party and passed with support from all parties in parliament.
Turkey's President Recep Tayyip Erdogan was upset by the resolution and said that this will deeply affect Turkey's relationship with Germany. He also recalled the Turkish ambassador from Berlin and said that further action in response to the resolution will be discussed later. The three biggest political parties in Turkey have already condemned the German decision, and the Turkish foreign minister, Mevlut Cavusoglu, tweeted: "The way to close the dark pages of your own history is not by defaming the histories of other countries with irresponsible and baseless decisions."
According to the 1948 Convention on Prevention and Punishment of Genocide, genocide is the "intent to destroy, in whole or in part, a national, ethnical, racial or religious group, as such." According to historians, the Ottoman Empire deliberately crashed down on Armenian people and other Christian minorities, starting in April 1915. They estimate that as many as 1.5 million Armenians were killed in the genocide. While Turkey acknowledges that many people died, they claim that the deaths were the result of war and that the numbers are exaggerated.
Denying that the genocide happened has long been a part of the national consciousness in Turkey, and is so sensitive that it is illegal to even talk about. Even though many large nations–such as France, Austria, Canada, and Russia, recognize the events as such–many still do not. And that is largely for political reasons–when countries have recognized the genocide, Turkey has been quick to withdraw its ambassadors or end military collaboration. This is why it's a pretty sensitive time for Germany, as it seeks a friendly relationship with Turkey to seal a deal over the immigrant crisis facing the EU.
With the deal, Turkey will take back refugees that make it to Greece illegally. In return, Turkey will get additional aid from the EU, Turkish citizens will be able to travel through Europe more easily, and talks about Turkey joining the EU will be sped up. The goal is to stop the human trafficking that has led to so many deaths on the seas as refugees seek entry into Europe. However, human rights groups and organizations like Doctors Without Borders have criticized the deal, saying that sending people back simply forces refugees to suffer in Turkey while also reducing them to numbers.
Angela Merkel did not participate in the vote, but later said: "There is a lot that binds Germany to Turkey and even if we have a difference of opinion on an individual matter, the breadth of our links, our friendship, our strategic ties, is great."
More than 40 U.S. states label the Armenian genocide as such, but the nation as a whole does not. Many see the lack of recognition as an attempt to maintain friendly relations with Turkey in order to maintain a strategic ally within the Middle East. President Obama has not referred to it as a genocide while in office, although he did prior to becoming president.