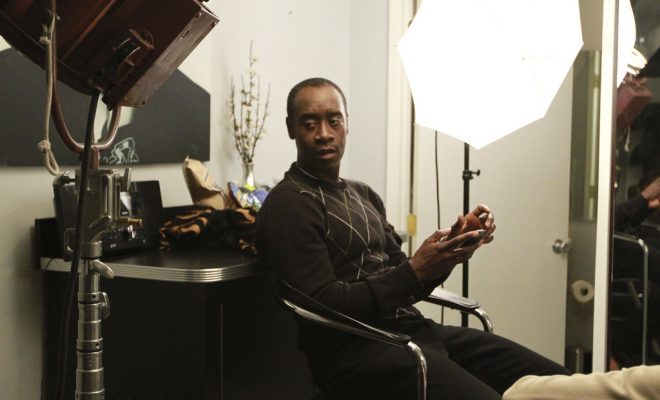 Image courtesy of [Bob Bekian via Flickr]
News
Trump's Response to Nykea Aldridge's Death Sparks Fury from Don Cheadle
By
|
Donald Trump's reaction to the fatal shooting of NBA player Dwyane Wade's cousin on Friday sparked heated condemnation from actor Don Cheadle and others on Twitter. Nykea Aldridge, 32, was shot and killed in Chicago while pushing her toddler in a stroller on her way to register her kids for school on Friday.
Two men fired shots at another man but accidentally hit Aldridge in the arm and the head. She was later pronounced dead at a hospital. Aldrige was a full-time mother of four: 12-year old Summer, 10-year-old Sincere, 8-year-old Shavae, and Da'Kota, the infant who was with her at the time of the shooting but was not injured.
Dwyane Wade announced his cousin's death on Twitter, expressing grief and anger over the senseless gun violence that is plaguing Chicago:
My cousin was killed today in Chicago. Another act of senseless gun violence. 4 kids lost their mom for NO REASON. Unreal. #EnoughIsEnough

— DWade (@DwyaneWade) August 27, 2016
On Saturday, Donald Trump tweeted three separate times about the incident. His first tweet misspelled Dwyane Wade's name and was deleted. He later sent out the same tweet but corrected the spelling:
Dwyane Wade's cousin was just shot and killed walking her baby in Chicago. Just what I have been saying. African-Americans will VOTE TRUMP!

— Donald J. Trump (@realDonaldTrump) August 27, 2016
Trump sought to use Aldridge's death to underscore his recent claims about safety in black communities. But many were quick to denounce Trump's response as inappropriate. Actor Don Cheadle responded forcefully:
You are truly a POS https://t.co/cyTwxgxwDh

— Don Cheadle (@DonCheadle) August 27, 2016
Cheadle quickly tweeted again, this time referencing Trump's initial misspelling of Wade's name.
Sorry. I misspelled "die in a grease fire." https://t.co/16K2iq1pF4

— Don Cheadle (@DonCheadle) August 27, 2016
Hours later, Trump sent his condolences:
My condolences to Dwyane Wade and his family, on the loss of Nykea Aldridge. They are in my thoughts and prayers.

— Donald J. Trump (@realDonaldTrump) August 27, 2016
Two brothers in their twenties were arrested for the fatal shooting and appeared in court on Monday. Both Darwin Sorrells Jr. and Derren Sorrells are convicted felons who were on parole at the time of the shooting. They are also both documented gang members.
The Sorrells were quickly arrested thanks to surveillance footage and help from the public, according to Chicago Police Superintendent Eddie Johnson. At a news conference on Sunday he said:
This tragedy isn't just noteworthy because Ms. Aldridge has a famous family member. Rather, it shows that the cycle of arrests, convictions and parole isn't changing the behavior of those who repeatedly commit crimes.
He finished by saying, "They're going to keep doing it until we show them we're serious."