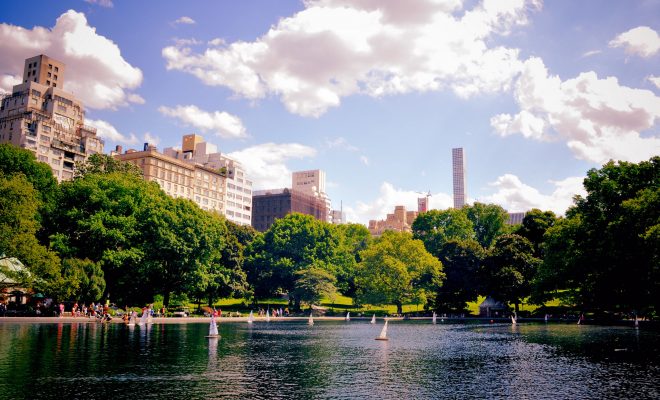 Image courtesy of andy orin; license: (CC BY 2.0)
News
Three of the Central Park Five Men Receive Belated Honorary Diplomas
By
|
On Monday, three of the Central Park Five finally got to attend a high school graduation and receive honorary diplomas. The three men missed their original graduation, as they were in prison for the 1989 rape of a woman jogging in New York's Central Park–a crime they did not commit.
Yusef Salaam, Kevin Richardson, and Raymond Santana Jr. joined 60 teenagers graduating from Bronx Preparatory High School on Monday, surrounded by family members. Marielle Colucci, a teacher at Bronx Prep, had used a 2012 documentary about their wrongful conviction when teaching students about the justice system. Earlier this year, Colucci's students asked if they could meet the men, and Richardson came to speak to the class.
Later, the school invited the men to the graduation ceremony. Even though they had received diplomas while in prison, they never attended a ceremony. Colucci said that it's important to inform students about what happened to these men, as all of her students are members of minority groups and could face the same discrimination.
Now in their 40s, three of the Central Park Five graduate from high school, receive honorary degrees. https://t.co/NAHFYTxfjl pic.twitter.com/EXU1H8AQfX

— Okayplayer (@okayplayer) June 27, 2017
In April 1989, a young woman was brutally beaten and raped in Central Park while on a run. Trisha Meili, the victim, barely survived. Police claimed that it was the deed of a group of schoolboys, and that at least four had taken part in the attack. Ultimately, the number of convicted assailants rose to five: Salaam, Richardson, Santana Jr., Kharey Wise, and Antron McCray. All are black or Hispanic. They became known as the "Central Park Five."
The five were not allowed to see their parents before being questioned, and were interrogated for hours; none of their DNA matched what was found on the victim's body, yet they all were found guilty. Eleven years later, Wise, who was 16 at the time of the rape, ran into a man in prison who confessed that he was the one who committed the crime. After confessing, police found that his DNA matched the DNA that was found on Meili.
But back in 1989, many thought the five men were guilty, and even Donald Trump played a part in vilifying them. Trump, who at the time was a real estate developer in New York, took out a full-page ad in the Daily News.
"How can our great society tolerate the continued brutalization of its citizens by crazed misfits? Criminals must be told that their CIVIL LIBERTIES END WHEN AN ATTACK ON OUR SAFETY BEGINS!" it said, complete with Trump's now-famous capitalization.
As Trump complains about a "witch hunt," remember his calls to execute the Central Park Five and refusal to accept that DNA exonerated them.

— Deborah Roseman (@roseperson) June 16, 2017
He also wrote that the death penalty should be brought back. The boys were between ages 14 and 16 at the time. As recently as last year, Trump still maintained that they were guilty. In an interview before the election, Richardson drew parallels to Trump's campaign claim that Hispanic illegal immigrants are drug traffickers and rapists.
"Just like those ads, that speech was a call for extreme action based on a whole set of completely false claims. It seems that this man is for some strange reason obsessed with sex and rape and black and Latino men," Richardson said.
One of the five, who changed his name, pointed out how Trump has a tendency to disregard facts and science and instead go with his own opinions. "Donald Trump told the world that my life had no value, no quality," he said. "And he's still saying pretty much the same thing today."