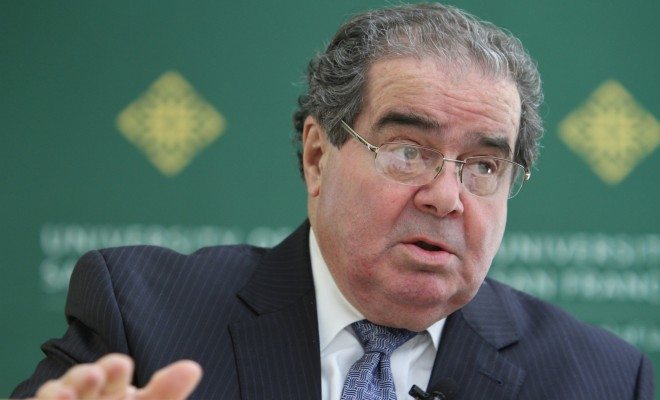 Image courtesy of [Sean via Flickr]
News
Supreme Court Justice Antonin Scalia Found Dead
By
|
Supreme Court Justice Antonin Scalia was found dead at 79 today at Cibolo Creek Ranch, in Texas. A conservative fixture on the court since he was appointed by Ronald Reagan in 1986, Scalia's death leaves a hole in the bench–filling it already promises to be contentious in today's hostile political environment.
According to sources, Scalia was in Texas at a resort this weekend. He complained that he did not feel well last night, went to bed, and didn't show up for breakfast this morning, so his hunting party left without him. He was later found to have passed away in his sleep, from natural causes.
His colleagues, as well as other top political voices, mourned his passing. Chief Justice John Roberts stated:
He was an extraordinary individual and jurist, admired and treasured by his colleagues. His passing is a great loss to the Court and the country he so loyally served. We extend our deepest condolences to his wife Maureen and his family.
Additionally, 2016 candidates weighed in on Scalia's legacy:
My thoughts and prayers are with Justice Scalia's family and his colleagues on the court who mourn his passing. pic.twitter.com/Y51xUMMEId

— Bernie Sanders (@BernieSanders) February 13, 2016
The totally unexpected loss of Supreme Court Justice Antonin Scalia is a massive setback for the Conservative movement and our COUNTRY! — Donald J. Trump (@realDonaldTrump) February 13, 2016
Statement on the passing of Supreme Court Justice Antonin Scalia: pic.twitter.com/xazj9dDd5c

— Hillary Clinton (@HillaryClinton) February 14, 2016
Justice Scalia was an American hero. We owe it to him, & the Nation, for the Senate to ensure that the next President names his replacement. — Ted Cruz (@tedcruz) February 13, 2016
Jeanette & I mourn the loss of Justice Scalia, and our thoughts & prayers are with his wife Maureen & his family. pic.twitter.com/e03KRZRM6q

— Marco Rubio (@marcorubio) February 13, 2016
President Barack Obama stated:
Obviously, today is a time to remember Justice Scalia's legacy. I plan to fulfill my constitutional responsibilities to nominate a successor in due time. These are responsibilities I take seriously, as should everyone.
However, the arguably most controversial statement came from Senator Mitch McConnell, who stated: "The American people should have a voice in the selection of their next Supreme Court Justice. Therefore, this vacancy should not be filled until we have a new president."
Given President Obama's sitting duck status, the fight to replace Scalia will probably be incredibly controversial, especially given McConnell's fighting words. But for now, the United States mourns a leading legal mind.