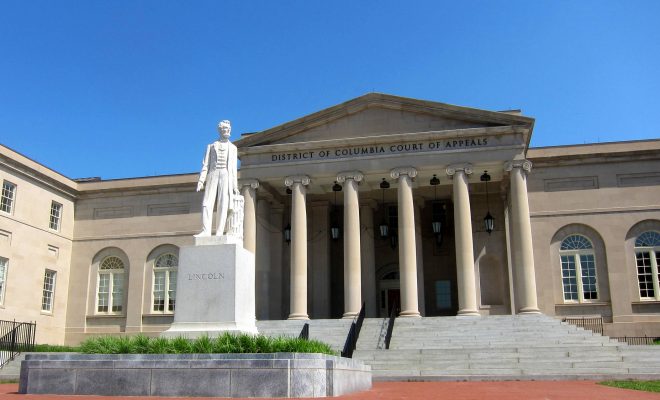 Image Courtesy of NCinDC; License: 

(CC BY-ND 2.0)
Law
Federal Appeals Court Blocks D.C. Effort to Curb Gun Rights
By
|
On Tuesday, a federal appeals court issued an injunction on a statute that would have severely limited gun rights in the District of Columbia. The 2-1 ruling represents a victory for Second Amendment advocates, and another setback in the effort to curb gun rights in the nation's capital.
The D.C. measure in question is commonly referred to as a "good reason" clause. It directs the police chief to set guidelines to limit gun possession in the city, making an exception for those who could justify carrying a weapon. But a three-judge panel at the U.S. Court of Appeals for the District of Columbia Circuit said the Supreme Court's guidance made clear that such a law would violate the Second Amendment.
Writing for the majority, Judge Thomas Griffith cited a 2008 Supreme Court ruling, District of Columbia v. Heller, which struck down D.C.'s 32-year ban on handguns.
The District of Columbia v. Heller ruling proved that "the Second Amendment erects some absolute barriers that no gun law may breach," wrote Griffith.
He added, "At the Second Amendment's core lies the right of responsible citizens to carry firearms for personal self-defense beyond the home, subject to longstanding restrictions."
Gun rights in D.C. have followed a pattern over the last decade: the city passes an ordinance to curb gun rights; the ordinance is blocked in court. From 1976 to 2008, handguns were banned in D.C.
With the Heller ruling, D.C. repealed its ban, and issued a new ordinance that made it impossible to obtain a permit to carry outside the home. In 2014, that measure was ruled unconstitutional. In response, D.C. amended the ordinance, making permits available to those who could show "good cause" to carry a handgun.
Unsurprisingly, gun advocates cheered the court's decision. Alan Gottlieb, founder of the Second Amendment Foundation, said in a statement that "the opinion makes it clear that the Second Amendment's core generally covers carrying in public for self-defense."
He added: "To read the majority opinion and not come away convinced that such 'good reason' or 'good cause' requirements are just clever ways to prevent honest citizens from exercising their rights is not possible." 
But Judge Karen Henderson argued in her dissent that, "the sole Second Amendment 'core' right is the right to possess arms for self-defense in the home."
She added: "By characterizing the Second Amendment right as most notable and most acute in the home, the Supreme Court necessarily implied that that right is less notable and less acute outside the home."