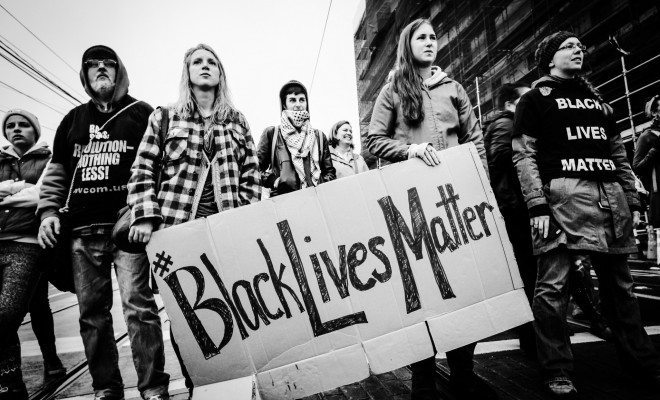 Image courtesy of [scottlum via Flickr]
News
South Carolina Cop Charged With the Murder of Walter Scott
By
|
We know their names by heart because they've become the public faces of a national epidemic. Oscar Grant, Trayvon Martin, Michael Brown, Eric Garner, and Tamir Rice–five names that represent the unjust murder of unarmed black males. But there are many more names on that list, including 53-year-old father of four Walter L. Scott. Scott was shot and killed Saturday by an white South Carolinian police officer while attempting to run away. A graphic of the video of the shooting has surfaced, leading to public outrage and resulting in the officer who shot him being charged with murder.
Be advised that the video below contains both graphic images and language.
According to the New York Times, the officer, Michael T. Slager, 33, attempted to justify the shooting, saying he feared for his life because Scott had taken his stun gun in a scuffle after Slager had stopped him in a Mercedes-Benz for a broken taillight. In the video, however, Scott is seen running away when Slager fires seemingly eight times at his back before finally collapsing.
At a news conference Tuesday, authorities announced that after viewing the video footage, they had decided to charge the officer with murder. North Charleston Mayor Keith Summey said during the news conference.
When you're wrong, you're wrong. And if you make a bad decision, don't care if you're behind the shield or just a citizen on the street, you have to live by that decision.
Police reports indicate that Officer Slager reported on his radio, "shots fired and the subject is down; He took my Taser" moments after the shooting. But the taser defense story could potentially be a sham. During the initial scuffle at the beginning of the video something looks to have been either tossed or knocked to the ground behind the two men. After the shooting, the officer then runs back toward where the initial scuffle occurred and picks something up off the ground and then appears to drop an object near Scott's body moments later. Unfortunately it's tough to determine the full story because the images are shaky and unclear. Many are now speculating that this object was the officer's taser, which he was potentially planting in order to corroborate his story, but that has yet to be proven by investigators.
The bystander who filmed the video has not yet been identified, but is being hailed as a hero by Scott's family for providing the footage to them, which they then turned over to the New York Times. In the video below, Walter Scott's brother and family attorney Chris Stewart react to the shooting, with Stewart making the bold statement "running from an officer doesn't result in the death penalty."
Stewart has a vital point that running away should not be a death sentence, but Supreme Court case law may beg to differ. In Tennessee v. Garner the court declared that officers may use deadly force against a fleeing suspect if there's probable cause that the suspect "poses a significant threat of death or serious physical injury to the officer or others." Officer Slager may try to use this precedent in his criminal defense or in the civil suit against him that Scott's family has declared that they intend to file.
This avoidable incident has only helped fuel public distrust for law enforcement as well as raise questions that there may be serious discriminatory problems ingrained in our police forces, as proved evident in Ferguson. One thing however is certain–Walter Scott's story, while unfortunately not unique, does matter.