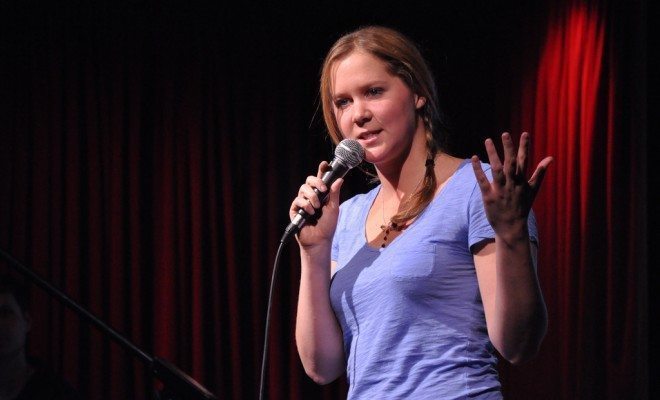 Image courtesy of [92YTribeca via Flickr]
News
The Schumers are On It: Gun Violence Prevention Has a Few New Faces
By
|
You've probably heard the name Schumer before–but the question is whether politics and taxes on private equity managers or jokes about women's sexuality and vaginas come to mind. Now, the two Schumers will be increasingly associated. Comedian, writer, and actress Amy Schumer and her cousin, Senator Chuck Schumer of New York, publicly announced on Monday that they are teaming up to fight gun violence. The announcement comes just two weeks after a fatal shooting in Lafayette, Louisiana, when a gunman opened fire at a screening of Amy Schumer's new movie "Trainwreck," killing two women and injuring nine others before committing suicide.
My heart is broken and all my thoughts and prayers are with everyone in Louisiana.

— Amy Schumer (@amyschumer) July 24, 2015
The comedian has called this shooting "extremely personal" and stated that she thinks of the two women who were killed during the showing of her movie every day. "This should not have happened," she said at a news conference alongside her Senator cousin on Monday. "It's a tragic, senseless and horrifying action from this man who should not have been able to put his hands on a gun in the first place." The Lafayette shooter bought his gun in Alabama last year after a background check failed to reveal his history of psychiatric problems and that he had been the subject of domestic violence complaints. Senator Schumer, sponsor of the "Brady Act" that was passed 20 years ago and requires background checks for gun buyers, stated, "We should do everything possible to tighten up loop holes," and that "we can't sit back and let mass shooting become commonplace."
Senator Schumer proposed new gun control measures that are meant to prevent violent criminals, abusers, and those with mental illnesses from obtaining guns. The legislation would improve the currently flawed background check system by creating monetary incentives for states that submit thorough reports to the federal database used to block gun sales to people with criminal records or a history of serious mental illness. The bill would also create penalties for states that fail to submit these records to the database. The Senator emphasized that this new plan is about improving the present background check system, not putting new restrictions on buyers.
74% of Americans want stronger background checks. Joining @amyschumer to call on my colleagues in Congress to finally listen. More at 11.

— Chuck Schumer (@SenSchumer) August 3, 2015
On Saturday, Amy Schumer tweeted in response to an open letter addressed to her from a Georgetown University student who called on Schumer to speak out against gun violence and advocate for stricter gun laws. "Your movie — which was so well-received, so brilliant, so you — will now forever have this shooting attached to it," the letter begins. The letter, which went viral on social media, raised many points about women's victimization from gun violence, stating that every day in the United States, five women are murdered with a gun, making American women 11 times more likely to be murdered with a gun than women in other high-income countries. The letter continues with more chilling statistics about gun violence against women, stating:
And from 2001 through 2012, 6,410 women were murdered in the United States by an intimate partner using a gun — more than the total number of U.S. troops killed in action during the entirety of the Iraq and Afghanistan wars combined.
The author of the letter, Sarah Clements, says that she knows the "guilt, the sadness, the hole in your heart" that Schumer must have experienced upon hearing the news of the shooting. Clements writes that her mother was a survivor of the Sandy Hook Elementary School shooting in 2012, and she has since dedicated her life's work to gun violence prevention. After Schumer read the letter, she tweeted in response, saying not to worry because she is "on it."
@cdickason11 @sfclem Her name was Mayci, not Marci and I think about her and Jillian everyday. Don't worry I'm on it. You'll see.

— Amy Schumer (@amyschumer) August 1, 2015
And she was on it. Just two days after the tweet, Schumer followed her cousin's presentation on his plans for gun violence prevention with an emotional speech at the New York press conference. "Unless something is done and done soon, dangerous people will continue to get their hands on guns," she said. "We never know why people choose to do these things," Amy Schumer stated, "but sadly we always find out how, how the shooter got their gun." She said that her cousin's three-step plan "deserves unanimous support" because it seeks to address the flaws in the "how."
Amy Schumer fights gun violence: 'Shootings have got to stop' http://t.co/t29GcKiWY3 pic.twitter.com/MH2Uj68iIt

— TODAY (@TODAYshow) August 4, 2015
Mass killings in the United States have occurred with increasing frequency in recent years. From 2000 to 2007, an average of 6.4 active shootings occurred per year; from 2007 to 2013, that number jumped to 16.4 incidents per year. These mass killings will continue to gain momentum unless we pass legislation that creates serious incentives for states to obey the gun restriction laws that are already in place. Not only do we need to buckle down on the current system of gun control that is not being followed, but we also need to eventually introduce new restrictions. In a majority of mass shootings, killers obtained their weapons legally. This fact warrants significant pause; our laws are not protecting us from danger and are allowing individuals to commit mass murders. All in all, serious improvements to America's gun laws are needed.
Senator Chuck Schumer and Amy Schumer are using their public platforms to advocate for necessary change that will hopefully spark a more robust conversation on gun control that has been fleeting and unfinished in the past. Amy Schumer's last line during Monday's press conference has left everyone wondering what is next for the Schumer pair when she stated: "These are my first public comments on the issue of gun violence, but I can promise you they will not be my last."