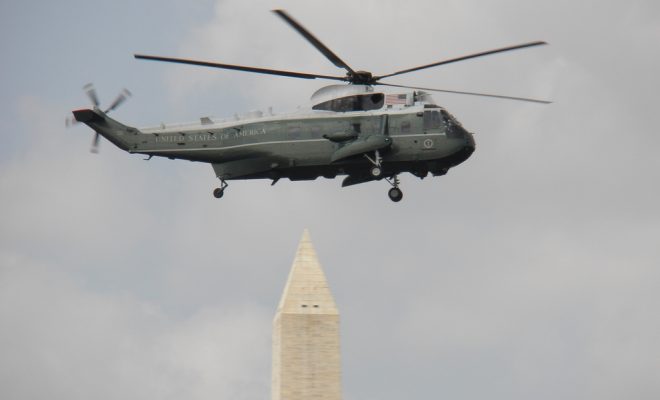 "Marine One" Courtesy of C.J. Ezell: License (CC BY 2.0)
Politics
Russian Plane Surveys Washington as Part of Open Skies Treaty
By
|
As part of the Treaty on Open Skies, an international program aimed at transparency between allies, a Russian plane scanned much of Washington D.C., including the White House, Capitol, and Pentagon, yesterday, alongside American representatives.
The Treaty on Open Skies is an agreement signed in 1992 between 34 nations that allows them to go on unarmed flights in secure air territory with a representative from the nation they are observing. Countries party to the agreement include Spain, Germany, the United Kingdom and many other smaller nations, according to the U.S. State Department. While Russia and the United States have a quota of 42 for observation flights, the smallest nations are only allowed a few opportunities.
The Capitol Police kept tabs on the Russian plane and U.S. military airmen were onboard with the Russians to make sure everything was okay, according to the Washington Post.
Earlier on Wednesday morning the Capitol Police released an alert that an "authorized low-altitude aircraft" would be flying in restricted airspace between 11 a.m. and 3 p.m. and would potentially fly directly above government buildings. The airspace around Washington D.C. and its suburbs is the most restricted region in the country, according to the Federal Aviation Administration.
The plan for the Russian plane was to take a tour of various Trump properties including his golf course in Bedminster, New Jersey, according to CNN. Trump is currently on vacation at the course for 17 days and had been there for 11 days before this trip began on Monday, according to TrumpGolfCount.com.
While the ride was certainly legal, some felt that Russia may be taking advantage of the treaty. Marine Lt. Gen. Vincent Stewart, director of the Defense Intelligence Agency, has been voicing concerns for over a year now. Last year Stewart met with the House Armed Services Committee subcommittee and said he would "love" to potentially deny future Russian expeditions in American airspace, according to the Washington Post.
"The things that you can see, the amount of data you can collect, the things you can do with post-processing, allows Russia, in my opinion, to get incredible foundational intelligence on critical infrastructure, bases, ports, all of our facilities," Stewart said in March 2016. "So from my perspective, it gives them a significant advantage."
Despite those concerns, the Trump Administration has continued to be reluctant to be stern with Russia in either rhetoric or actions.
Navy Captain Jeff Davis spoke on behalf of the program in response to Stewart's comments. Despite the increased American anxiety regarding diplomatic ties with Russia, Davis sees no legitimate reason to renege on a 25-year-old treaty.
"We have to remember that while we have pretty good intelligence on a lot of the world, a lot of other countries don't necessarily have that great of intelligence on us," Davis said. "So, in the interest of transparency and miscalculation on their part, sometimes it's worthwhile to allow them to have a look at what you're doing or what you're not doing."