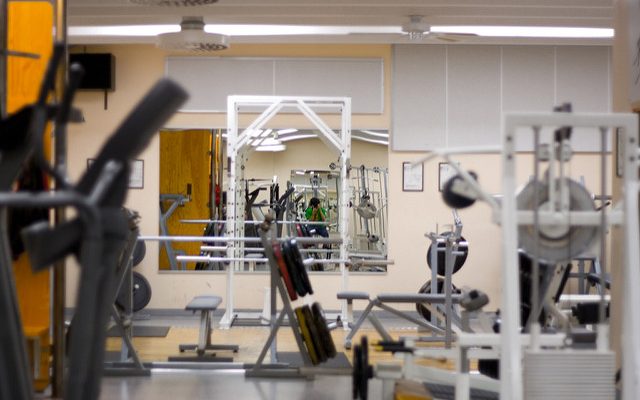 "The gym" Courtesy of Chun Kit To: License (CC BY 2.0)
Society and Culture
Atlanta Gym Bans Police and Active Military Members
By
|
The owner of an Atlanta gym wants the world to know that police aren't welcome at his business.
Recently, Jim Chambers posted a sign on the front door of the EAV Barbell Club explaining the gym's rules. The sign is clearly visible from the street and reads, "Do whatever the hell you want, correctly, except crossfit cultism. No f—–g cops."
According to Chambers, although the sign went up a couple weeks ago, he has enforced this policy since the gym opened. He also does not give memberships to active members of the military.
Former law enforcement and military members, however, are welcome to join.
In an interview with Reuters, Chambers explained that most of his clients are minorities and/or members of the LGBT community. Many of them would be uncomfortable working out alongside law enforcement because police officers had harassed them in the past.
"We know statistically that those people are at risk around police in America," Chambers said. "I had members who joined because of the policy: they saw it on the door and thought, 'Oh, that's cool,' and joined."
He has since removed the vulgar sign but plans to put up another without the expletives.
The Atlanta Police Department has not released an official statement about the policy. However, a representative told local news station WXIA, "Were we to respond to an emergency there, this sign would not stop us from lawfully doing our job."
Chambers doesn't mind. "If they have a warrant, they can go anywhere they want, but we're not breaking the law," he said.
He also noted that, as someone who describes himself as "somewhere between an eco-anarchist and a Marxist-Leninist," he would not be likely to call the police in the first place.
WXIA reached out to a team of lawyers about the legality of the policy. They agreed that federal anti-discrimination laws do not protect law enforcement as a separate group. The courts could decide if the policy is discriminatory, but for now, it remains legal.
Since the story broke on Tuesday, mixed reactions have been pouring in on social media. The gym's Facebook page currently has a 1.4 rating and over 2,000 one-star reviews.
Atlanta Gym Owner Puts Up Sign, 'No F—ing Cops' – Tells Reporters: No Veterans Either https://t.co/KUGJQNMsCt
Wow
Why would anyone go there?

— Truckster1 (@truckster1) August 9, 2017
Atlanta gym owner you're doing amazing sweetie https://t.co/sLUzClmBkc

— reggie (@1942bs) August 9, 2017
Atlanta gym bans Cops from joining.

It's their right. And it's our right not to join & to protest outside the gym. https://t.co/l7BmVeYzV8

— Joe Walsh (@WalshFreedom) August 9, 2017