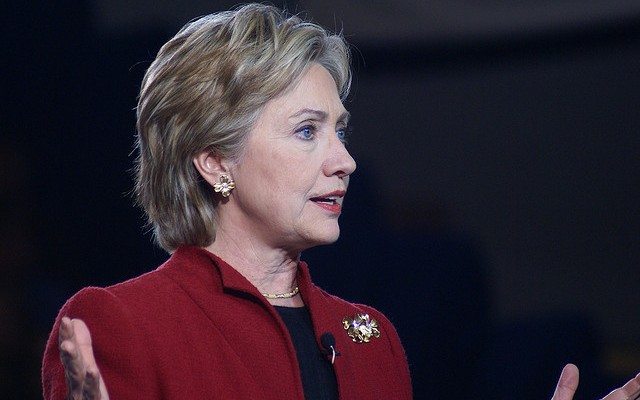 Image Courtesy of Marc Nozell: License (CC BY 2.0)
Politics
Judge Orders New Search for Clinton Emails
By
|
A federal judge ruled on Wednesday in favor of one more search for Hillary Clinton's missing emails.
D.C. District Judge Amit Mehta ordered the State Department to search its servers for emails related to the 2012 Benghazi attack. In particular, they are tasked with looking for anything Clinton sent to aides Huma Abedin, Cheryl Mills, or Jake Sullivan at their state.gov addresses.
"Secretary Clinton used a private email server, located in her home, to transmit and receive work-related communications during her tenure as secretary of state," Judge Mehta noted in his ruling. "[State] has not, however, searched the one records system over which it has always had control and that is almost certain to contain some responsive records: the state.gov email server."
The ruling comes after the watchdog group Judicial Watch filed a lawsuit calling for a renewed search. The group argued that the State Department had only searched outside sources, such as Clinton's private server.
Lawyers for the department countered that an additional search is unlikely to turn up anything else. In addition, it would set a poor precedent for any future requests under the Freedom of Information Act (FOIA).
Judge Mehta responded that "this matter is a far cry from a typical FOIA case" and that the email scandal was "a specific fact pattern unlikely to arise in the future."
He then ordered the department to give him a status report by September 22.
Previously, Clinton and her three aides surrendered more than 30,000 emails to the agency in 2014. The investigation found 348 emails relating to Benghazi sent to or from the then-Secretary of State.
Any emails she deleted off her private server, however, may not have a backup and are likely gone forever.
In contrast, as a government agency, the State Department would have server backups in place. Department officials, though, have admitted that there was no automated archiving system in place during Clinton's tenure.
The State Department did not comment on the ruling. Tom Fitton, president of the Judicial Watch, said in a statement, "This major court ruling may finally result in more answers about the Benghazi scandal–and Hillary Clinton's involvement in it–as we approach the attack's fifth anniversary."
Clinton cites the "emailgate"controversy and then-FBI director James Comey's subsequent investigation as major reasons why she lost the 2016 presidential election.