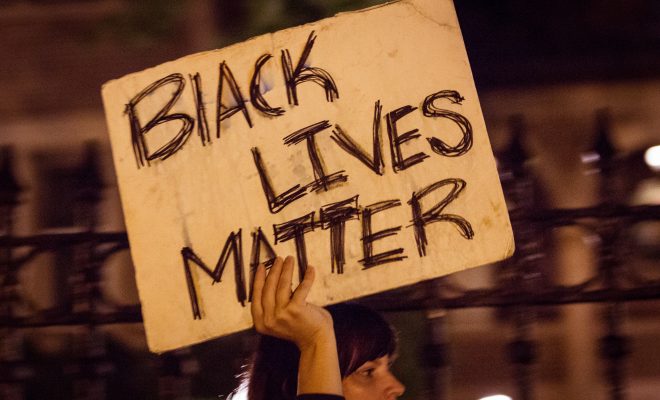 "Black Lives Matter" courtesy of [Tony Webster via Flickr]
News
Protests in Charlotte Sparked by Shooting of Keith Lamont Scott
By
|
On Tuesday night violent protests erupted in Charlotte, North Carolina, over the fatal shooting of Keith Lamont Scott earlier that day. The protests came the day after police in Oklahoma released video footage of the shooting of another man on Friday, Terrence Crutcher.
The protests started peacefully, close to where Scott, 43, was killed. They went on until late at night, with people chanting "Black Lives Matter." In the early morning hours of Wednesday, demonstrators started blocking traffic on the interstate and even opened up backs of tractors and trucks to take out the cargo and set it on fire in the streets. Others broke into a local Walmart. Police used tear gas and flash grenades to interrupt the riots, during which at least 12 police officers and 11 civilians were injured.
#Charlotte #cmpd pic.twitter.com/LJVfhRcgUc

— Adam Rhew (@AdamRhew) September 21, 2016
On Tuesday afternoon police looking for another man with an outstanding warrant approached Scott, who was sitting in his car outside of an apartment complex. Police say Scott got out of the car carrying a gun, and then got back in. When they got closer he got out again, and according to the police statement, the officers felt their lives were in danger and felt compelled to shoot.
But according to Scott's family, he was unarmed and disabled, and was reading a book in his car while waiting for the school bus to drop off his son.
Here's the man's sister. She says he did not have a gun. @CMPD says he did. @WBTV_News pic.twitter.com/JwHMixy9m7

— Sarah-Blake Morgan (@SarahBlakeWBTV) September 20, 2016
His brother said the cop that shot Scott was undercover and dressed in normal clothes. He was shot four times and pronounced dead at a local hospital.
The brother of the victim in the officer-involved shooting says that the cops were undercover. pic.twitter.com/PBrDwkjEdm #Charlotte

— Beatrice E. Peterson (@MissBeaE) September 21, 2016
The family claims Scott didn't own a gun, but the police say they did recover a firearm at the scene. Police Chief Kerr Putney said that although the police officer who shot Scott was dressed in plainclothes, he also had on a police vest and there were uniformed police at the scene. But he couldn't say for sure whether Scott aimed his weapon at anyone, nor did police specify what brand or model of gun they had found.
The man who was shot on Friday evening was Terrence Crutcher, 40. He was waiting for assistance next to his car that had broken down on a road in Tulsa, Oklahoma, when female police officer Betty Shelby, who responding to a domestic violence call, found him. When she asked what had happened, he didn't answer, and according to her attorney, he kept ignoring her questions. When he reached toward his vehicle, she thought he was grabbing a weapon and shot him.
The video that police released on Monday show the man surrounded by several other officers before he falls to the ground. In another video from a police helicopter circling the scene, one officer is heard saying Crutcher is "looking like a bad dude," and "looks like time for taser."
"Looks like a Bad Dude" why don't you Say his name instead #TerrenceCrutcher pic.twitter.com/USSL3TjBzE

— The HBCURoundTable ™ (@HBCU_Roundtable) September 20, 2016
According to the Crutcher family's lawyer, it is impossible that he reached inside the car for a gun, since the window was rolled up and blood stained on the outside.
Both officers involved in the shootings of Crutcher and Scott have been placed on paid administrative leave.