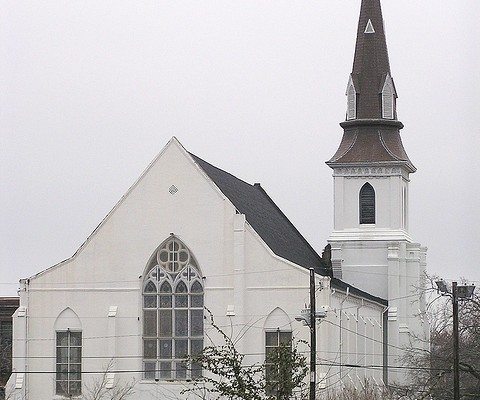 Image courtesy of [Henry de Saussure Copeland via Flickr]
News
Developing: Shooter Arrested in Charleston Church Shooting
By
|
Church members of the historic Emanuel African Methodist Episcopal Church in Charleston, South Carolina gathered together on Wednesday evening for their weekly prayer meeting. No one would have ever predicted the horrific events that took place later that night when a visitor came into the church and changed many people's lives forever.
The evening seemed to be going as normal, like every other week. About an hour into the meeting, a man who was sitting in the church the whole time and mingling with others suddenly pulled out a weapon and began to fire, leaving nine people dead. The Pastor of the church and South Carolina state senator Clementa Pinckney, 41, was killed during the shooting. Pinckney was also one of the black community's spokesmen after the slaying of an unarmed man, Walter Scott, by a North Charleston police officer earlier this year.
The suspect has been identified as Dylann Storm Roof, a 21-year-old white male. He was seen on the church's surveillance camera and then found on facebook. His Facebook page also carries a photo of him wearing a jacket with patches of the racist-era flags of South Africa and Rhodesia.
Have you seen Dylann Roof? @FBI confirms 21-year-old as #CharlestonShooting suspect. http://t.co/3ijYaNanPM #chsnews pic.twitter.com/6blL5HGMLX

— The Post and Courier (@postandcourier) June 18, 2015
After the shooting Roof escaped onto the streets of the city's historic downtown, an area normally overflowing with tourists. According to CBS News police have just brought the suspect into custody this afternoon after finding him in Shelby, North Carolina.
There were 13 people inside the church when the shooting happened–the shooter, the nine people who were killed, and three survivors, according to South Carolina state senator Larry Grooms as told to CNN. Two of the survivors were not harmed. A five-year-old girl reportedly survived the attack by following her grandmother's instructions to play dead.
Charleston NAACP President Dot Scott told CNN that a woman who survived says Roof told her he was letting her live so that she could tell people what happened. Scott said she heard this from the victims' family members.
I did not hear this verbatim from the almost victim, I heard it from at least half a dozen other folks that were there and family of the victims. There seems to be no question that this is what the shooter said.
After the shooting 50 or more church and community members gathered together at the Embassy Suites hotel near the church to pray. Charleston Police Chief Greg Mullen vowed that they were committed to finding the gunman. He also said,
This is a tragedy that no community should have to experience. It is senseless and unfathomable in today's society that someone would walk into a church during a prayer meeting and take their lives.
"The only reason someone would walk into a church and shoot people that were praying is hate," Charleston Mayor Joe Riley said. Events such as these terrify and anger people around the world. Community organizer Christopher Cason told the Associated Press that he felt certain the shootings were racially motivated. "I am very tired of people telling me that I don't have the right to be angry," Cason said. "I am very angry right now."
Cason feels just as many other people do. The hashtags #CharlestonShooting and #PrayersForCharleston have begun trending on Twitter, as tweeters express how they feel about this awful incident.
No words. On our knees with you. #PrayersForCharleston

— Jennie Allen (@JennieAllen) June 18, 2015
Make no mistake, this was terrorism, this was mass murder, this was driven by racial hatred. This is American history. #CharlestonShooting

— . (@Bhattousai) June 18, 2015
if it was black, he'd be a thug if it was a muslim, he'd be terrorist but bc he's a white gunmen, he's excused w illness #CharlestonShooting

— semi hiatus julianne (@djagonalley) June 18, 2015
It is evident that everyone is disgusted by this tragedy. I am truly saddened that we are living in a time where there are constantly killings or disturbing incidents happening due to someone's race. Church is a safe haven for many, and now countless people will worry about their safety every time they step into one. President Obama delivered a statement today about the Charleston shooting on CNN stating, "It is in our power to do something about it." I hope that people will take what he said and truly realize that we have the power to change our community and change our country.