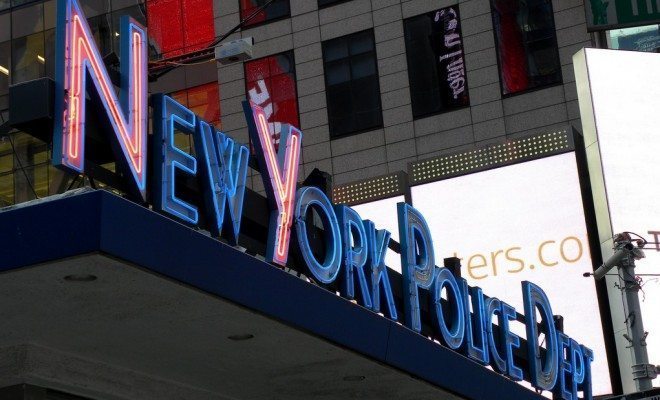 Image courtesy of [Rev Stan via Flickr]
News
NYPD Deaths Escalate Tensions in New York
By
|
On Saturday, December 20, Ismaaiyl Brinsley shot and killed two NYPD officers in their patrol car, then proceeded to commit suicide with the same gun on the platform of a nearby subway station. The officers, Wenjian Liu, 32, and Rafael Ramos, 40, were shot in the head and upper body by Brinsley's semiautomatic handgun. Although this shooting occurred outside of recent protests in the city, which have been almost completely nonviolent, tensions between the NYPD, protesters, local communities, and politicians continue to grow.
Brinsley boarded a bus from Baltimore to New York on Saturday morning with the intention to kill police officers, an intention that he expressed on social media that morning.  He posted a picture of a silver handgun on Instagram with the caption, "I'm Putting Wings On Pigs Today. They Take 1 Of Ours…Let's Take 2 of Theirs." He also referenced the deaths of Michael Brown and Eric Garner in the same post.
After arriving in Manhattan, he made his way to Brooklyn where he ambushed Liu and Ramos.  In a press conference with Mayor de Blasio, Police Commissioner Bill Bratton responded to the murders saying, "quite simply they were assassinated."
Earlier that morning Brinsley got into a fight with his ex-girlfriend, Shaneka Nicole Thompson, in Baltimore. The argument ended after Brinsley shot Thompson in the stomach, stole her phone, and fled the scene according to Baltimore County Police. As of Sunday, Thomson was in critical, but stable, condition in a local Baltimore hospital. A friend of Thompson's notified Baltimore police later that day after seeing Brinsley's Instagram photo, and an alert was sent to the NYPD shortly before the Brinsley killed Liu and Ramos.
Acting Alone
It is important to realize that Brinsley was not a participant in recent protests in New York, and his actions do not represent a departure from the peaceful methods employed up to this point. Instead, Brinsley was a man with a long history of arrests and a record of mental issues. He was arrested 19 times for various minor offenses, many of which included firearms, the Washington Post reported. In 2011, he received a two-year sentence in a Georgia prison for felony gun possession, though his actual release date is difficult to determine.
According to relatives, Ismaaiyl Brinsley was on medication for a brief period and he admitted to being under the care of a psychiatrist or in a mental institution during a court hearing. His family further noted that he likely had some undiagnosed mental issues and according to his sister, he was "an emotionally troubled kid. He needed help and didn't get it." The police have identified an increasingly aggressive social media history, which became particularly antigovernment and antipolice in recent weeks. Relatives also told authorities that Brinsley attempted to hang himself a year ago.
Tensions Mount
The murders of Officers Liu and Ramos have intensified the debate between protesters, the police, and city officials. The president of the NYPD's largest union, Patrick Lynch, said that the murders are the result of the recent protests and Mayor de Blasio's response. According to Lynch, "there is blood on many hands, from those that incited violence under the guise of protest to try to tear down what police officers did every day."
Supporters of the police argue that since Eric Garner decision, Mayor de Blasio has not sufficiently assisted police officers. From meeting with protest groups to taking a hard line against police misconduct and brutality, many disagree with the mayor's treatment of the police. In fact, a group of officers publicly turned their backs on the mayor before a press conference on Saturday night.
Whether or not you agree with the protesters or the police, arguing that recent nonviolent protests caused the deaths of two police officers is completely off base. The evidence revealed so far indicates that the shooter acted alone. Brinsley, who had a long arrest record and a troubled history, was not compelled to kill two police officers by peaceful activism. While recent events may have created tension between police officers and communities, connecting them to an unwarranted act of violence is simply unjustified.
Instead, we should see the recent shooting for what it is–the act of a man with a long criminal history and mental health problems. Arguing that Brinsley shot two police officers because of protests fails to explain why he also shot his ex-girlfriend that same morning. Brinsley was clearly a troubled man, and while that does not come close to justifying his actions, it does indicate that what he did does not extend beyond himself. Recent protests may have brought the issue to public consciousness as they intended to do–they represent one response to a set of events. Other reactions, specifically violent ones, represent an unrelated and unjustified response.
Recent protests in New York raise opposition to a legitimate issue–police violence–and attempt to open up a dialogue with the police and local officials. Both supporters and critics alike should at least acknowledge the movement's nonviolent nature. Everyone is entitled to an opinion, but conflating violence with recent protests will only serve to make matters worse. Civil rights leaders have already denounced the killings. While some may disagree with their decision not to heed Mayor de Blasio's call to pause demonstrations until after the officers' funerals, the fact is that this shooting was an unrelated event.
The deaths of officers Liu and Ramos truly are tragedies. Regardless of context, any act of such unwarranted violence can never be condoned. Americans should be able to mourn their deaths as well as the death of Eric Garner at the same time without feeling any tension between the two. Being opposed to police misconduct is not the same as being antipolice, and supporting the police does not mean you should ignore their mistakes.