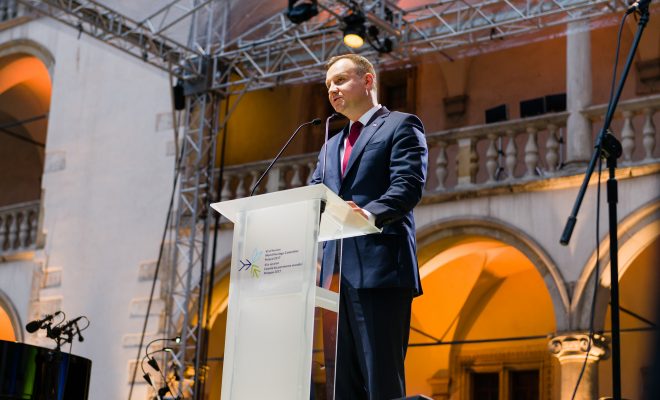 Image Courtesy of 41WHC UNESCO; License: 

(CC BY-SA 2.0)
World
Polish President Vetoes Controversial Judicial Reform Bills
By
|
Polish President Andrzej Duda vetoed two of three bills on Monday that would have broadened the government's powers in shaping the Supreme Court. The three laws, proposed by the populist Law and Justice Party (PiS) and passed by parliament last week, ignited protests across the country. They also brought swift condemnation from the European Union and the U.S. State Department.
In a televised statement, Duda said the judicial reforms would "not strengthen the sense of justice" in Poland. Duda added that he supports reform, "but a wise reform."
The vetoed legislation would have allowed the Justice Ministry to remake the Supreme Court. Current justices would have been pushed out, forced into early retirement, while new judges would have been selected by the justice minister. The third bill, which Duda approved, gives the justice minister the authority to select judges to fill Poland's lower courts.
Despite Duda's surprising decision to veto the controversial bills, PiS can still push through the reform measures with a three-fifths majority vote. PiS could not achieve that unilaterally however, and would need an assist from other parties. Given the bill's unpopularity outside the right-wing PiS, a veto-proof majority is an unlikely scenario.
The effort by PiS, the ruling party, to reshape the courts prompted protests in at least 100 cities over the weekend. In Warsaw, thousands of people packed the streets to protest the legislation, waving EU and Polish flags, and carrying signs that read "constitution." Some protests turned violent.
"People can demonstrate in the streets, can show their dissatisfaction, but not resort to violence," Duda said in his address.
The EU and the U.S. also disapproved of the reforms. Last week, Donald Tusk, the European Council president and former leader of Poland, said the bills would "ruin the already tarnished public opinion about Polish democracy." The EU also threatened to trigger Article 7 and impose sanctions on Poland, a rarely used diplomatic maneuver.
The State Department also chimed in, saying in a statement on Friday that the legislation "appears to undermine judicial independence and weaken the rule of law in Poland."
"We urge all sides to ensure that any judicial reform does not violate Poland's constitution or international legal obligations and respects the principles of judicial independence and separation of powers," the statement from State Department spokeswoman Heather Nauert continued.