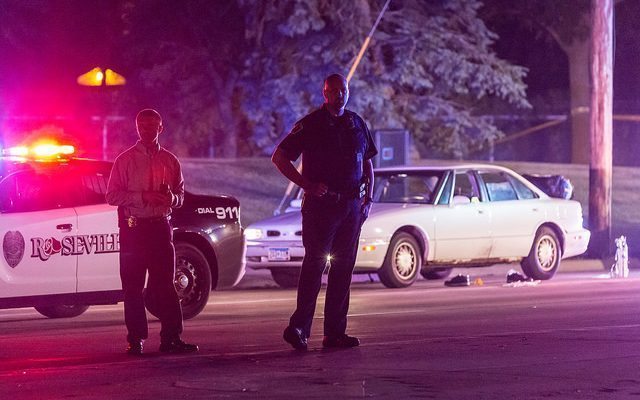 Philando Castile - Falcon Heights Police Shooting Courtesy of [Tony Webster via Flickr]
News
Woman Live-Streams After Police Shoot Boyfriend, Philando Castile
By
|
"Stay with me…We got pulled over for a busted tail-light in the back..," said the woman as she calmly begins to Facebook live-stream. Her video pans to a black male in a blood-soaked white shirt slumped over in the driver's seat, and then an officer–his face is out of frame–standing outside the car window pointing a gun at him. She tells her viewers, "the police just…he, he's covered–they killed my boyfriend. He's licensed, he's licensed to carry."
The woman in the car is Lavish Reynolds, and her boyfriend, Philando Castile, had just been shot multiple times by a police officer in Falcon Heights, Minnesota during a traffic stop. Her four-year-old daughter was present during the shooting, sitting silently in the back seat.
Castile later died at the Hennepin County Medical Center in Minneapolis at 9:37 pm, a few minutes after he arrived.
The fatal officer-involved shooting comes just one day after multiple videos captured Alton Sterling being shot and killed by Baton Rouge police sparked outrage over police brutality across the country.
*Warning: This Video Contains Graphic Material
#AltonSterling been dead what? A day? Now they killed her boyfriend right in front of her. I'm sick…https://t.co/7Ghdf3502h

— Several ⛓ (@SeveralChains) July 7, 2016
Reynolds, who maintained a calm composure during the ordeal, explained the incident to her viewers during the live-stream. "He was trying to get out his ID in his wallet out of his pocket, and he let the officer know that he was… that he had a firearm and that he was reaching for his wallet. And the officer just shot him in his arm."
The officer is later heard yelling in the video, "I told him not to reach for it!  I told him to get his head up!" to which Reynold's replies: "He had…you told him to get his ID, Sir. His driver's license. Oh my God, please don't tell me he's dead…"
No one besides Castile was injured during the shooting. When police backup arrived, Reynolds, better known as Diamond, was detained. Her video has been shared hundreds of thousands of times on Facebook.
In a lengthy CNN interview Thursday, Valerie Castile, the mother of Philando Castile, said that both her son and her daughter have conceal-carry gun permits, and that she discussed the topic with them at her house yesterday–mere hours before Philando was shot.
Valerie Castile stated that her daughter said during that ominous conversation that she might stop carrying her gun, out of a fear that "they'll shoot me first and then ask questions later."
She was joined in the interview by Philando's uncle, Clarence Castile, who called the video "the most horrific thing I've ever seen in my life." Both he and Valerie Castile expressed outrage toward the unnamed police officer's actions.
"He's not an officer," Clarence Castille said. "He's just a man. An officer is supposed to protect and serve. That was a man who did that. That man is a destroyer and he came into our lives and done something and took something from us."
Girlfriend behind the #PhilandoCastile video speaks out. pic.twitter.com/Nn5HW83VCV

— Melissa Colorado (@melissacolorado) July 7, 2016
According to NBC, Minnesota Gov. Mark Dayton said in a statement Thursday morning that he asked the White House to compel the U.S. Department of Justice to begin an independent federal investigation into the death of Castile, who would have turned 33 on Friday.
Dayton added that the Minnesota Bureau of Criminal Apprehension has already begun "collecting all necessary evidence, and interviewing witnesses, to determine what happened, and to assure that justice in this case is served."
Unfortunately the American public will not be able to see the actual shooting from the officer's perspective, because the St. Anthony's Police Department, which serves the city of Falcon Heights, does not have body cameras, according to the department's office manager, Kim Brazil.