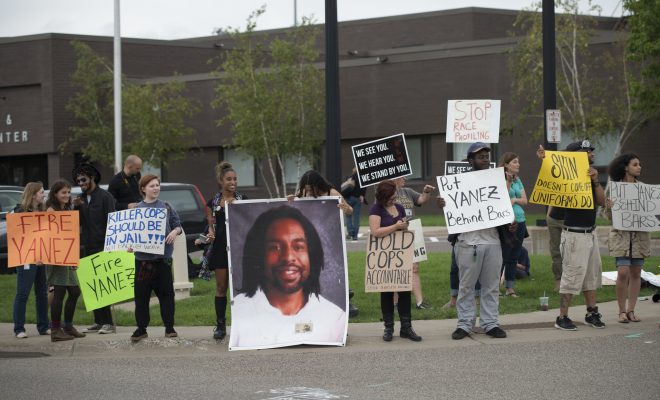 Image Courtesy of Fibonacci Blue; License: (CC BY 2.0)
News
Officer Who Killed Philando Castile Charged with Manslaughter
By
|
The police officer who shot and killed 32-year-old Philando Castile, a black man, in a Minnesota suburb in July was just charged with second-degree manslaughter, and two additional counts of intentional discharge of a dangerous weapon. Ramsey County Attorney John Choi delivered the charges against Officer Jeronimo Yanez, who could face up to 15 years in prison if he is convicted. His first court appearance will be Friday afternoon.
"Based upon our thorough and exhaustive review of the facts, I have come to the conclusion that there simply was no justification for the use of deadly force by Officer Yanez in this case," Choi said in a statement. "No reasonable officer who knew, saw, and heard what Officer Yanez did at the time would have used deadly force under these circumstances." 
Officer who shot Philando Castile charged with manslaughter. See what happened in other police-involved deaths of blacks. pic.twitter.com/2wOr1yypDi

— NYT Graphics (@nytgraphics) November 16, 2016
On the evening of July 6, Yanez pulled over Castile because of a busted brake light. His girlfriend, Diamond Reynolds, and her daughter were also in the vehicle. In a press conference announcing his decision to press charges, Choi gave previously undisclosed details of what happened next, according to dash-cam footage and audio:
Officer Yanez asked Castile to produce his driver's license and proof of insurance. Castile first provided him with his insurance card. Castile then, calmly, and in a non-threatening manner, informed Officer Yanez, 'sir, I have to tell you that I do have a firearm on me.' Before Castile completed the sentence, Officer Yanez interrupted and calmly replied, 'okay' and placed his right hand on the holster of his own, holstered, gun. Officer Yanez then said, 'okay, don't reach for it, then.' Castile tried to respond but was interrupted by Officer Yanez, who said, 'don't pull it out.' Castile responded, 'I'm not pulling it out,' and Reynolds also responded by saying, 'he's not pulling it out.' Then Officer Yanez screamed, 'don't pull it out!,' and quickly pulled his own gun with his right hand while he reached inside the driver's side window with his left hand. Officer Yanez pulled his left arm out of the car, then fired seven shots in rapid succession into the vehicle.
The immediate aftermath of the bloody scene was captured by Reynolds, and streamed to millions of people on social media. The graphic video fueled weeks of protests around the country, and an outcry of support for Reynolds and her four-year-old daughter.
"I ask for the public's continued patience, trust and respect for the integrity of the process as we prosecute this case and seek justice for Philando Castile, his family and friends, including Diamond Reynolds and her daughter, and our broader community," Choi said.
Castile's mother, Valerie, spoke soon after Choi announced his decision: "We are here in solidarity, my family and I, to support that decision," she said at a press conference. "We all hope and pray the right thing is done."