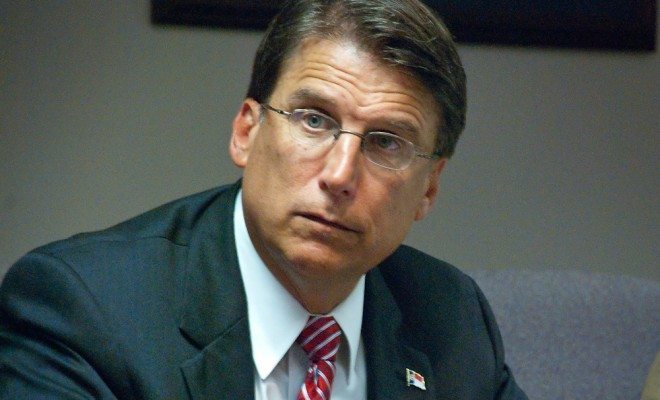 "Pat McCrory" courtesy of [Hal Goodtree via Flickr]
News
North Carolina Sues Justice Department Over Bathroom Bill Deadline
By
|
The governor of North Carolina, Pat McCrory, has sued the federal government in response to the federal deadline to begin to remedy the so-called bathroom bill in the state. The law entered into effect in March and bans transgender people from using public bathrooms that don't correspond with the sex on their birth certificate. Last week the top civil rights lawyer at the Justice Department, Vanita Gupta, called the law a civil rights violation, and McCrory was given until today to respond. Instead, he reacted by suing both Gupta and U.S. attorney Loretta Lynch, for what he called a "radical reinterpretation" of federal law.
McCrory had asked to have the deadline extended, to which the Justice Department answered no, unless he essentially admitted how discriminatory the law is. He refused, saying doing so would be the same as agreeing with the law's critics. He also fought back against the claims from some that the bathroom bill was similar to segregating bathrooms by race. McCrory stated that transgender people do not have the same civil rights protection issues as people of color, since you can easily see someone's race, while seeing someone's gender identity is definitely harder.
According to CNN, McCrory said that the House Bill 2, commonly called the bathroom bill, does not only affect North Carolina, but all of America. He alleges that the Obama administration is trying to change the norm. McCrory called the federal government "a bully" and used the argument that men will be able to go in the women's bathrooms or locker rooms and molest them as grounds for backing the law.
Tonight, I joined @MegynKelly to talk about the hypocrisy surrounding the common-sense bathroom privacy bill. Watch:https://t.co/RveLPCpFS3

— Pat McCrory (@PatMcCroryNC) April 29, 2016
If North Carolina keeps the law, this means the state could lose about $1.5 billion in funding, as well as risk $800 million worth of federally backed student loans, and possibly face a federal lawsuit. The law has generated a storm of protests from the public as well as celebrities and big corporations, such as Apple, Twitter, and PayPal. Bruce Springsteen and Pearl Jam have cancelled shows in the state, and Target announced that employees and customers could use any restroom they identify with in their stores.