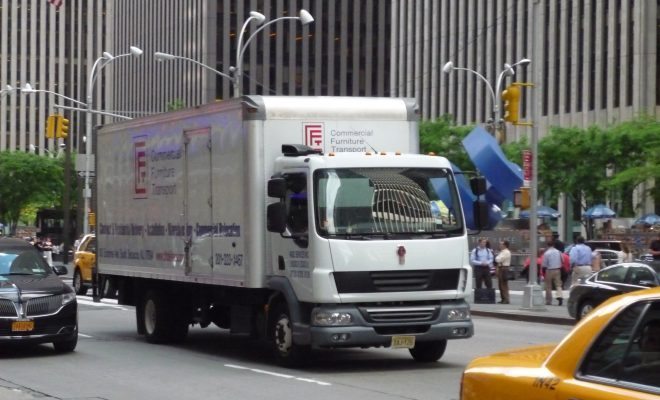 "Kenworth K270" Courtesy of [Jason Lawrence via Flickr]
News
Nice Attack: 84 Dead From Deadly Truck Rampage
By
|
Thursday night in Nice, France, 84 people went to go celebrate Bastille Day and watch the fireworks, but their night ended in tragic death, as the country experienced its third major terror attack in 19 months. More than 200 others were injured–some critically–as a result of Mohamed Lahouaiej Bouhlel, 31, the man who is believed to be responsible for driving a large commercial truck over a mile-long stretch along a crowded boulevard, brutally mowing down those in his path.
French officers finally shot and killed Bouhlel outside the Hyatt hotel and casino. Prime Minister Manuel Valls addressed the attack Friday morning after a cabinet meeting. "We will not give in to the terrorist threat. The times have changed, and France is going to have to live with terrorism."
President François Hollande has extended France's state of emergency for another three months. Originally, the state of emergency was supposed to be over at the end of the month in the wake of the attacks in and around Paris Nov. 13. He has also called for three days of mourning beginning Saturday, where the flags will fly at half staff. Hollande said he in no way doubts that the attack had ties to terror.
"We have an enemy who is going to continue to strike all the people, all the countries who have freedom as a fundamental value," Hollande said. "France is afflicted, but she is strong, and she will always be stronger than the fanatics who want to strike her."
Bouhlel had a history of petty crime, including burglary and theft, but his name was not found on any French terrorist lists. Authorities found a 7.65 mm pistol and several fake grenades and rifles inside the truck. The motives behind the attack are still unclear. Bouhlel was born in a northeastern Tunisian town and moved to France in 2005.
Authorities are slowly beginning to identify those slain in the attack. Among the victims are two Americans—Sean Copeland, 51, and his son, Brodie, 11, of Texas. Bodies still lay in the streets of Nice, as Interpol, an international police organization, said it would deploy a team "to provide disaster victim identification assistance," on its Twitter.
INTERPOL Incident Response Team being deployed to #Nice to provide disaster victim identification assistance

— INTERPOL (@INTERPOL_HQ) July 15, 2016
Cell phone video footage shows the truck rolling purposefully and accelerating towards the crowd of people on Promenade des Anglais, a boulevard in the seaside city just after the fireworks ended. An eye witness also told CNN that the driver was "firing a machine gun while driving," and those in the streets fled to nearby restaurants for refuge.
Heroic motorcyclist loses life in attempt to stop #NiceAttack https://t.co/42bPpUgBSj pic.twitter.com/m7GQvrnMjs

— RT (@RT_com) July 15, 2016
 "They didn't know where to go, they were looking for an exit — they were hoping they'd find an exit out the back. They had to stay there for a couple of hours, but people wouldn't even come out — they were so frightened — until the police came and said it was OK to come out," Andy McCardy, the eye witness, said.
The attack took place less than a week after the 2016 Euro Games, where security and police forces took extraordinary precautions to secure the sites. There has been speculation that the suspects connected with the attacks in Paris and Brussels had planned an attack during the tournament, but nothing was executed.
The two presidential hopefuls in the U.S. reacted to the event, each taking different stances on how to combat terrorism. Donald Trump said he would declare war on ISIS, but also tweeted his condolenses to the French.
Another horrific attack, this time in Nice, France. Many dead and injured. When will we learn? It is only getting worse.

— Donald J. Trump (@realDonaldTrump) July 14, 2016
Hillary Clinton called for better intelligence gathering in order to fight terror groups. Here's her statement:
"Every American stands in strong solidarity with the people of France" —Hillary on the attack in Nice pic.twitter.com/BBGgHucSE0

— Hillary Clinton (@HillaryClinton) July 15, 2016