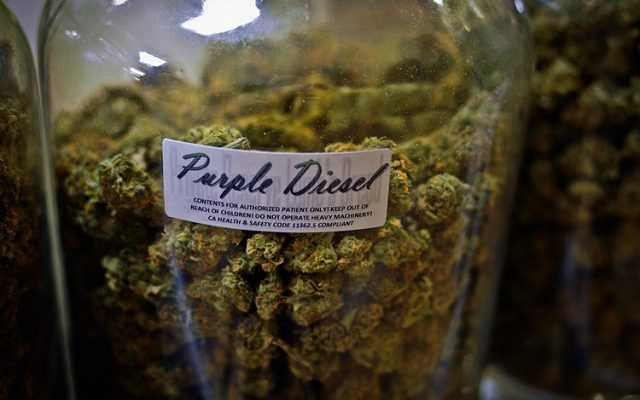 Image Courtesy of Dank Depot: License (CC BY 2.0)
Cannabis in America
Nevada Approves Emergency Marijuana Regulations to Fix Supply Shortage
By
|
Nevada approved emergency marijuana regulations Thursday, aiming to fix the state's marijuana "state of emergency." The Nevada Tax Commission voted unanimously to expand the definition of who is allowed to transport marijuana from cultivation facilities to retail dispensaries.
Under the expanded regulations, distributors previously operating in Nevada's medical marijuana program, which was implemented in the state in 2001, would be able to be awarded licenses, according to the Las Vegas Sun.
How Did We Get Here?
A bureaucratic bottleneck turned Nevada's recreational marijuana launch into a distribution disaster. The state rushed its July 1 launch, without awarding any distribution licenses to alcohol wholesalers, who maintain a transport monopoly for the first 18 months of sales.
With no timeline for when the supply chain issues would be fixed, retailers stockpiled marijuana based off initial sales estimates. But as marijuana flew off the shelves at record numbers, dispensaries couldn't keep up. Available product wasn't the issue; in fact, growers still possessed plenty of marijuana. But with no legal way of transporting it to licensed retailers, the market was left in a legal limbo.
Gov. Brian Sandoval declared a marijuana state of emergency less than a week after the market launch in an effort to fix the shortage problems and keep the fledgling market up and running. If left unfixed, thousands could have found themselves out of a job and the state would inevitably lose out on some of the money it budgeted toward beefing up public education.
"When businesses operate we get the tax revenue and that's what the state wants," testified Deonne Contine, director of the Nevada Department of Taxation, at the emergency hearing in Carson City. "We need to do everything we can to get more distributors licensed so these businesses can continue operating."
First Distribution Licenses Awarded
The Department of Taxation issued its first distribution license Wednesday to Crooked Wine Co., a Reno based alcohol wholesaler, according to Stephanie Klapstein, spokeswoman for the department.
Crooked Wine signed an operation agreement to work with Blackbird Logistics Corporation, an established medical marijuana distributor also based in Reno, which began shipping product almost immediately. According to the Reno Gazette-Journal, "Crooked will have the license, but Blackbird will be in charge of the on-the-ground duties."
A second license was issued Thursday to Rebel Wine, a Las Vegas-based wholesale alcohol distributor.
Contine said it's too early to tell whether the alcohol wholesalers will be able to handle the demand statewide. She said one of the new licensees is "pretty stressed out about what he's going to be asked to do."
"There's room in this market for plenty of more," Contine said, adding that she's hopeful some additional alcohol wholesalers could be licensed in the days or weeks ahead.