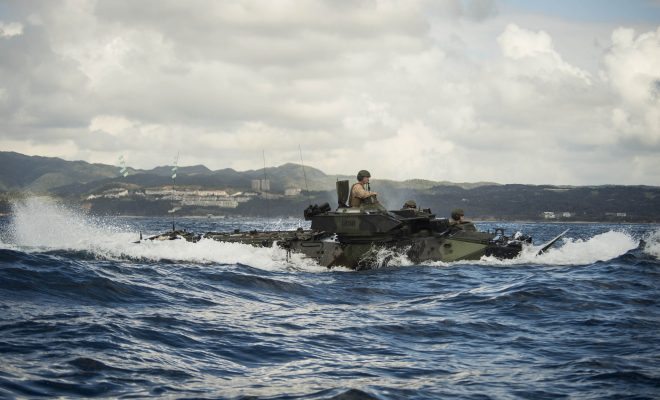 "141102-N-LP801-127" [Courtesy of Naval Surface Warriors via Flickr]
News
Following Latest Incident, Navy Bans Alcohol For U.S. Sailors In Japan
By
|
As a result of yet another incident involving U.S. military personnel harming Japanese civilians, the Navy announced on Monday a complete ban of alcohol on or off bases for American sailors stationed in Japan. The ban does not affect all soldiers who are stationed on the island, only those in the Navy. There are roughly 50,000 total U.S. military personnel in Japan, 18,600 of whom are sailors.
On Saturday, Petty Officer Second Class Aimee Mejia, 21, drove her car into oncoming traffic on a highway outside the Kadena Air Base in southern Okinawa. She crashed into two cars, injuring both drivers: a 30-year-old man and a 35-year-old woman. Mejia is in Kadena Police custody and has yet to be charged for the incident. According to the officers involved in the arrest, Mejia's blood alcohol level was six times the legal limit.
Prior to Monday's announcement, all U.S. military personnel–soldiers included–were restricted from consuming alcohol off base, in observance of a 30-day mourning period for the murder of a Japanese woman by a U.S. military civil contractor (and former Marine) in Okinawa a few weeks ago. Monday's amendment restricts alcohol both on and off base. It also confines sailors to their homes or bases unless they are required to perform "essential" duties. No timetable for the new rules has been provided, but a press release said the ban will continue until "all personnel understand the impact of responsible behavior on the U.S.-Japan alliance."
"We deeply regret this incident and express our heartfelt sympathies for the accident victims and their families," said Lt. Gen. John L. Dolan, commander of U.S. forces in Japan.
The U.S.-Japan alliance has been fraught with contradictory episodes over the past few months, both testing and affirming America's commitment to its strong partnership with Japan. On May 27, Barack Obama became the first sitting U.S. president to visit Hiroshima, the tragic site where tens of thousands of Japanese were annihilated by the world's first nuclear bomb in 1945. That historic trip was made amid deepening mistrust between civilians and military personnel on Japan's southernmost prefectural island, Okinawa, where the majority of the U.S. military presence in Japan is located.
The U.S. presence on the island–nearly a quarter of Okinawa's land is covered by a U.S. military site–has been a contentious issue since America occupied the island in 1972. Tensions have been renewed in recent months: An American sailor raped a 40-year-old woman at her hotel in Naha, the island's largest city, in March. In May, a former Marine and civil contractor was charged with the rape and murder of a 20-year-old woman.
Following the latest incident, Japan's Foreign Minister Fumio Kishida met with U.S. Ambassador Caroline Kennedy, imploring her to widen the scope of discipline on U.S. military personnel to ensure such incidents don't happen again. In a press release on Monday, Rear Admiral Matthew Carter, commander of U.S. naval forces in Japan, offered his condolences and stressed the importance of the U.S.-Japan bond:
"For decades we have enjoyed a strong relationship with the people of Japan. It is imperative that each sailor understand how our actions affect that relationship and the U.S. Japan alliance as a whole."