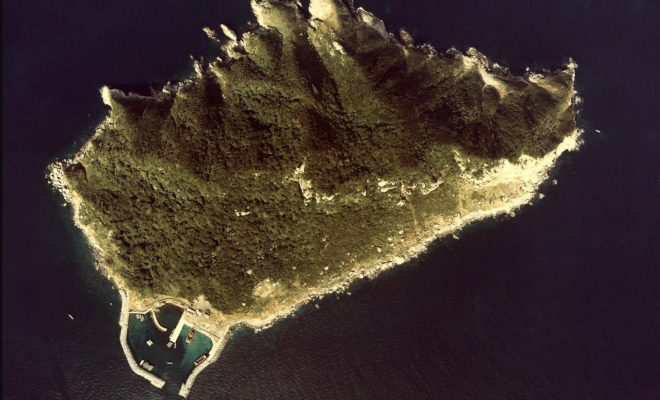 Image Courtesy of Ministry of Land, Infrastructure, Transport and Tourism; License: public domain
World
Japanese Island That Bans Women is Now a UNESCO World Heritage Site
By
|
Okinoshima, a 200-acre island off the Japanese mainland, was announced as one of the newest additions to the UNESCO World Heritage sites list on Sunday. But globe-trotters wanting to visit Okinoshima may need to reconsider: the island bans women.
The reason behind the island's ban is unknown, but it is commonly thought to stem from an ancient belief that menstruation makes women impure.
Men who wish to go to the sacred island also have to follow strict guidelines, including ridding themselves of their impurities by bathing naked in the ocean before coming ashore. Men are allowed only one visit per year. They must also never speak of the island, nor remove so much as a flower or blade of grass from the environment, according to Japanese newspaper The Asahi Shimbun.
The female-free land mass is manned year round by a Shinto priest who prays to the island's gods and watches over the 17th century shrines.
The mystical island is also home to a vast collection of culturally significant and virtually intact archeological artifacts that "provide evidence of intense exchanges between the Japanese archipelago, the Korean Peninsula and the Asian continent," according to UNESCO.
The island's treasures and new World Heritage status would have likely attracted a number of tourists, were it not for its policy on travelers. But local officials have stated they will not loosen any rules in light of UNESCO's decision.
UNESCO Faces Criticism
While the Japanese government welcomed the announcement of its 17th heritage site, many took to social media to express their discontent that a site banning women was given a UN commendation.
Okinoshima island's forbidden to women & Unesco thinks it's ok since there's another place forbidden to women. whatever @UNESCO #WonderWoman

— V-Lex (@VitalMilla) July 10, 2017
The UNESCO Committee debated whether Okinoshima's inclusion as a World Heritage site would be discriminatory, but found a precedent in Mount Athos, in Greece, which also prohibits entry to women. Okinoshima's approach to gender segregation did not constitute a sufficient reason to prevent the island from becoming a World Heritage site, according to UNESCO spokesperson Roni Amelan.
An island official refuted comments saying the practice was discriminatory, and told AFP that the ban "is meant to protect women, the birth-giving gender" because travel by sea can be dangerous.
Still, some find that the decision sends the wrong message and is directly at odds with UNESCO's Priority Gender Equality Action Plan, which has a stated goal to "ensure that a gender equality perspective is reflected in all its policies, programs, and processes."
Rajan Zed, president of the U.S.-based Universal Society of Hinduism, called for UNESCO Director General Irina Bokova's resignation for failing to uphold the organization's ideals.
"Where women are revered, there the gods are pleased; where they are not, no rite will yield any fruit," Zed said, quoting Hindu scriptures.