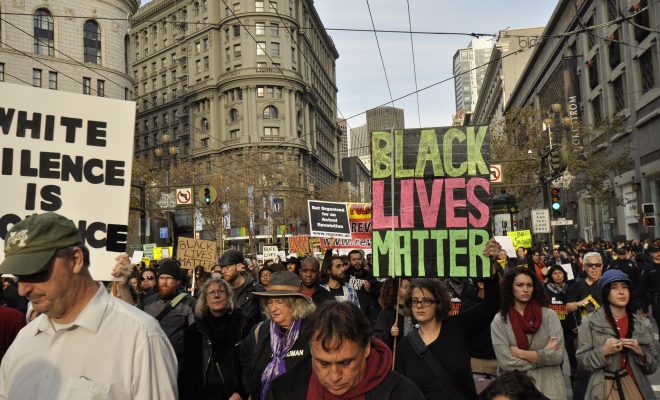 "Black lives matter demo, San Francisco" Courtesy of Jim Killock; License: (CC BY-SA 2.0)
News
Mistrial Declared in Case Against Officer Who Killed Walter Scott
By
|
A South Carolina judge declared a mistrial Monday after jurors said they couldn't reach a unanimous decision in the case of a white former police officer charged with killing an unarmed black man, Walter Scott.
The 53-year-old father of four had been stopped by North Charleston police officer Michael Slager because of a broken taillight in April 2015. According to Slager, a scuffle erupted and Scott took his stun gun. Scott then attempted to flee, and Slager shot him multiple times in the back while he was running away. He died on scene.
Feidin Santana, an eyewitness to the shooting, captured a video of the encounter with a cellphone and the footage soon went viral.
That THIS could not be declared "murder" in America should tell you EVERYTHING about our justice system. #WalterScott.

Just horrendous. pic.twitter.com/2mPnMXh84b

— Shaun King (@ShaunKing) December 5, 2016
Slager was charged with murder and released on a $500,000 bond in January 2016. He was later indicted on separate charges by a federal grand jury for deprivation of rights under the color of the law, use of a weapon during the commission of a violent crime, and obstruction of justice.
Slager's attorney argued that his client didn't know whether Scott was armed or not and that he had acted out of fear for his own life. He said:
The officer never had a chance to pat him down for weapons, nor did he know the whereabouts of the passenger in the vehicle Scott was operating without a registration or insurance. Scott ran from a very minor traffic stop, and Slager had no knowledge why.
However, the cellphone video showed that Slager dropped a black object on the ground before firing. After shooting Scott, Slager is then seen picking up the object and placing it next to the lifeless body.
On Friday, the jury in the case said it hadn't been able to reach a verdict, but the judge ordered them to keep deliberating until Monday. One juror in the case said he couldn't make the decision to convict Michael Slager. Reportedly, he was the only member of the jury "having issues" and he wrote in a letter to the court, "I cannot and will not change my mind." By Monday, the judge declared a mistrial.
The news left many people feeling hopeless.
My God #WalterScott. Feeling numb all over. It's the ton of bricks one feels on their heart & head knowing we have been here before! 😔😡

— Nina Turner (@ninaturner) December 5, 2016
#MichaelSlager killed a man who was no threat and ran from him, planted a Taser, LIED on the stand and still wasn't convicted #WalterScott

— Scooby (@TheRealistDom) December 5, 2016
there are no words. #WalterScott's life mattered. if seeing him shot in the back wasn't enough for a conviction how can we ever get justice?

— Franchesca Ramsey (@chescaleigh) December 5, 2016
Outrage erupted in North Charleston after the killing of Walter Scott, but residents' anger intensified even more due to the racial imbalance clearly evident in the police force. Even though only 37 percent of the population is white, 80 percent of police officers are white.
Slager has reportedly been emotional and regretful during the trial.
"Going back 18 months later and looking at everything, things could have been different" he said. "My family has been destroyed by this. The Scott family has been destroyed by this. It's horrible."