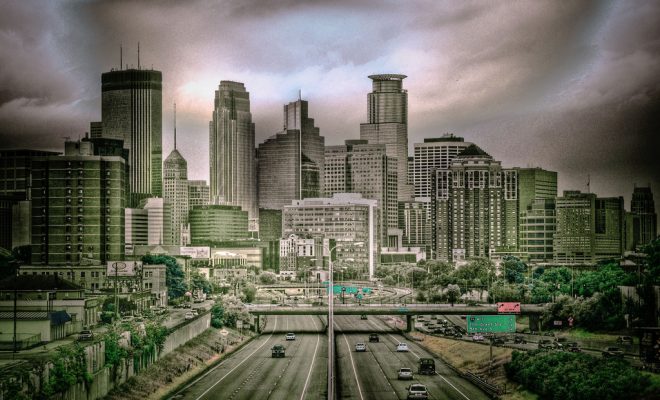 "Minneapolis MN Skyline - August" courtesy of Peter Ladd; license: (CC BY-ND 2.0)
Crime
Minneapolis Police Officer Killed an Australian Woman After She Called 911
By
|
On Saturday evening, a woman in Minneapolis, Minnesota called 911 to report what she believed might be a sexual assault taking place in an alley close to her home. But when police arrived, an officer fatally shot her. Police have not explained what happened and the officers' body cameras were turned off at the time. The woman, Justine Damond, was originally from Australia and lived in Minneapolis with her fiancé Don Damond.
Don Damond's son, Zach, called Justine his best friend in a video posted on Facebook. He said that she called the police because she thought something bad was happening to someone else. "And then the next thing I know they take my best friend's life," he said. "I'm so done with all this violence. It's so much bullsh*t. America sucks."
Minneapolis Police said the shooting was not captured by the officers' dashboard cameras and no one seems to know why the body cameras were turned off. The Minnesota Department of Public Safety is investigating the incident, but the investigation is only in its early stages. On Monday night, the county medical examiner said that the cause of death was a gunshot to the abdomen.
According to the Minneapolis Star Tribune, the officer who shot Justine Damond is named Mohamed Noor. Three sources who spoke to the Star Tribune said that Justine Damond was outside in her pajamas talking to the officer in the driver's seat of the police car, when Noor, who was sitting in the passenger seat, suddenly drew his weapon and shot her. No weapon was found at the scene.
Justine Damond planned to marry Don Damond next month. Her maiden name was Justine Ruszczyk, but she went as Justine Damond. She reportedly held dual citizenship in both the United States and Australia, as her father is a U.S. citizen.
On Sunday night, neighbors and others held a vigil at the scene of the shooting.
Vigil crowd swelled to 200 strong, all praying for Justine – the woman neighbors identified as who a MPD officer killed last night. @WCCO pic.twitter.com/uVOM61gRhD

— Jeff Wagner (@Jeff_Wagner4) July 16, 2017
The Australian Department of Foreign Affairs and Trade said that it has been assisting Justine Damond's family in Sydney and released a statement on behalf of her family members. "This is a very difficult time for our family. We are trying to come to terms with this tragedy and to understand why this has happened," it said.
Minneapolis Mayor Betsy Hodges demanded answers from the police on Sunday. "As mayor of our city, a wife, and a grandmother, I am heartsick and deeply disturbed by what occurred last night," she said. "There are still many questions about what took place, and while the investigation is still in its early stages, I am asking the BCA to release as much information, as quickly as they are able to."