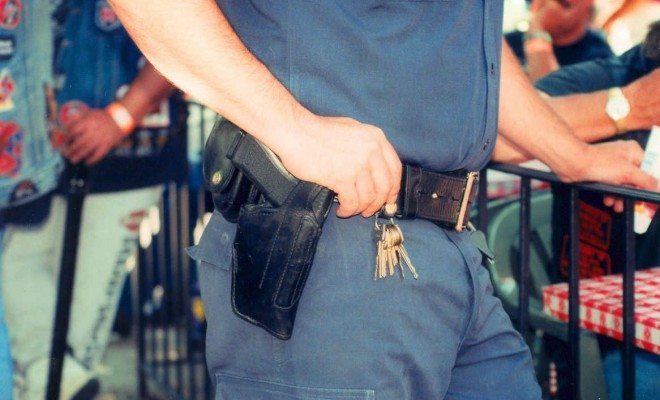 Image courtesy of [Elvert Barnes via Flickr]
News
London Moves Forward with Police Body Cams: Will the U.S. Follow?
By
|
Mayor of London Boris Johnson just announced that by the end of March 2016, the majority of Metropolitan Police officers will be supplied with 20,000 body cameras in an effort to help officers gather evidence to fight crime and boost public confidence. Metropolitan Police Commissioner Bernard Hogan-Howe said, "For too long our equipment has lagged behind the technology almost everyone has in their pockets to capture events as they unfold." But while this now-international trend toward implementing body cams can help to uphold the law in theory, there are still concerns about whether this technology can really do its job in practice.
Mayor Boris Johnson confirms plans to roll out 20,000 police body cameras across the Met: https://t.co/JTlW1tKUpj pic.twitter.com/2W32Hznv4K

— MOPAC (@MOPACLdn) June 3, 2015
This development will make London the most body camera heavy city in the world, further advancing Britain's status as one of the most surveilled states. The British Security Industry Authority (BSIA) estimates that there are up to 5.9 million closed-circuit television cameras in the country, or one camera for every eleven people in the United Kingdom.
For the past year, police officers in London have undergone trials of the body cameras and have reported positive results. The trial has allowed officers to generate about 6,000 video clips per month, which are uploaded daily and referenced when the footage is considered necessary for evidence. These trials, set to end later this summer, suggest that the implementation of body cameras can increase the number of guilty pleas and reduce complaints, speeding up the justice system. London police have come under scrutiny for controversial stop-and-search laws, which disproportionately target minority groups. London officials hope that body cameras will help to improve public trust and increase officer accountability in these scenarios.
While body cameras may be useful for monitoring daily operations of police officers, some civil rights groups are concerned that the technology will prove to be an intrusive surveillance tool that can be easily exploited. There is also concern about who has access to the footage and if it will be publicly accessible. The Mayor's Office for Policing and Crime has plans to lead a citywide public engagement training to explain how the cameras work and when Londoners might encounter them. The London Policing Ethics Panel intends to produce the United Kingdom's first report regarding the ethics of officers' use of the cameras, which will be published in the fall.
Cities across the United States are also providing their officers with cameras. The company Taser, a maker of body cams, reported a 50 percent increase in sales in the first three months of 2015. While continued proliferation of body cameras seems forthcoming, critiques of the cameras' use are also widespread. Most footage caught on camera is not considered public record, which has proved problematic–police departments can easily erase destructive footage. In some cases, officers forget to turn on their body or dashboard cameras, since neither device is constantly recording, but needs to be manually switched on. Some police officers' cameras have conveniently malfunctioned at the time of an encounter, leaving victims of police brutality without evidence of their claims. Had the Ferguson, Missouri police department mandated the use of police officer body cameras or used dashboard cameras in patrol cars, the mystery surrounding what truly happened leading up to and during the fatal Michael Brown shooting of 2014 would have been absolved.
Necessary changes must be made to officer accountability in the wake of years of unrest. London is taking a huge step forward in what may become a revolution in police liability and encouraging a positive shift in public discourse about law enforcement. Video clips should be accessible by the public. Police officers should be held individually accountable for the use of their cameras, by disciplining those who routinely forget to turn on their body cams. Police departments, prosecutors, and every other chain of command throughout the justice system should work toward preserving footage to protect the rights of the abused, even if—and especially when—police officers are in the wrong. While implementation of body cameras is the first move going forward–and London should be applauded for its efforts–effective, ethical execution of their use is the most important step.