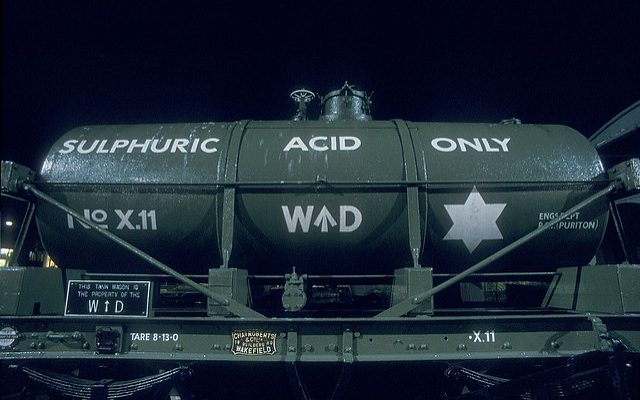 "Sulfuric Acid" courtesy of Rob Brewer; License: (CC BY-SA 2.0)
Crime
What You Need to Know About the Rise of Acid Attacks in London
By
|
Sophie Hall was out with a group of friends at a night club in London in early April. It was 1 a.m. and they were still having fun before she noticed a fight breaking out next to her. Then she became overwhelmed by the smell of petrol and her face felt like it was on fire. The next thing she could remember was being stripped of her clothes and transported to the hospital for treatment for an acid attack.
Sophie was one of twenty people who were victims of the acid attack at the Mangle nightclub. The attack was not an isolated incident, but part of the larger epidemic of gang- and drug-related acid attacks that have increased in London in recent years.
According to data from the London police released in March, acid attacks from 2015-2016 increased by 74 percent. There has been a 30 percent rise in England overall. The problem has gotten so serious that London police officers have been issued acid treatment kits to allow officers to give immediate on-scene treatment to victims.
Acid attack epidemics are nothing new for the city. During the Victorian era it was common for women to throw corrosive acid on men who had "crossed them in love" as revenge. However, in the UK today most corrosive acid attacks involve men. Gang wars are believed to be the primary cause.
There are a variety of reasons why acid attacks may be popular for gang members. For example, there's the relative cheapness of purchasing and concealing the substance. A liter of 95 percent sulfuric acid only costs £6.50 (about $8.50) and can be easily concealed from police. Furthermore the rise in acid attacks also coincides with efforts by lawmakers to deter possession of knives and guns.
Simon Harding, a Criminologist at Middlesex University, believes that the frequency of acid attacks has risen because they're more difficult to prosecute and see more lenient repercussions, pointing out: "If you throw [acid] in someone's face, it's going to affect their eyes and eyesight so you have a high chance of getting away with it." He went on to say: "Acid is likely to attract a '[Grievous Bodily Harm] with intent' charge while using a knife is more likely to lead to the attacker being charged with attempted murder."
In recent weeks, acid was used to target food delivery workers for popular services such as UberEats and Deliveroo. Jabed Hussain, 32, was one of five delivery bikers who were attacked during a 90-minute acid attack spree on July 16 in East London. In response, Hussain and other busy drivers blocked a central street in London during rush hour to protest the lack of safety. Hussain told reporters: "I'm just shocked, using acid to steal a bike? What's a bike worth? My life is worth more than that."
Representatives from the British government are currently meeting with police officers and the office of Home Secretary to discuss banning some kinds of acid, but have encountered difficulties because variations of the chemical are found in household goods. One MP, Stephen Timms, has recommended making it illegal to carry such noxious chemicals without justification. Violating that law would lead to penalties more on par with people caught with guns or knives. But while it may deter the number of acid attacks, it could inspire criminals to search for new, more dangerous weapons to use.