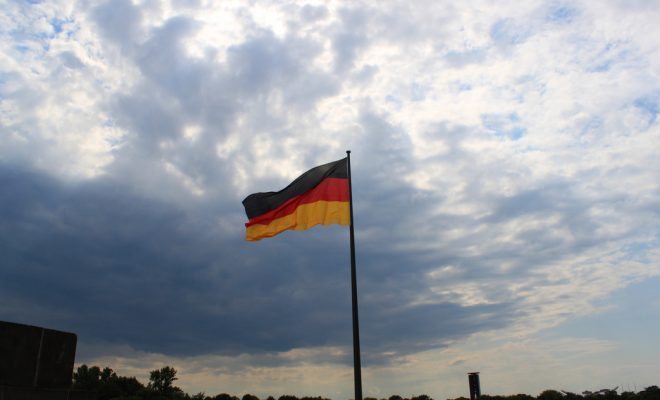 "German Flag" Courtesy of [Domenico Citrangulo via Flickr]
News
Week of Terror: Latest Attacker in Germany a "Soldier" of ISIS
By
|
The past week in Germany has been rife with bloodshed and full of dread. At four public sites across the country starting last Monday, 10 people have been killed and scores more injured–some critically–in suicide bombings, stabbings, and in one instance, an ax-wielding teenager. On Sunday evening, in the most recent attack on German soil, a 27-year-old Syrian man blew himself up and injured 15 others at a fair in Ansbach, a town 90 miles north of Munich.
As information from the investigation into the attack trickled in on Monday morning, one troubling tidbit came to light: the man, identified by a neighbor as Mohammad Daleel, pledged allegiance to the Islamic State, or ISIS, on a cell phone video shot just moments before he detonated his backpack full of explosives, according to Bavarian Interior Minister Joachim Herrmann.
"I believe that after this video we cannot doubt that this attack was an Islamist terror attack," Herrmann said. In the video, the suspect says Germans "won't be able to sleep peacefully anymore," while describing his impending attack as a "revenge act against Germans because they are standing in the way of Islam."
In the early stages of the investigation into the attack–the week's second to take place in the German state of Bavaria–it is unclear whether or not the man had directly communicated with ISIS, or if he had acted of his own accord, inspired by the ideology of the terrorist group. He is the second attacker in Germany this week to voice support for ISIS. The first came last Monday, when a 17-year-old Afghan asylum-seeker attacked people on a subway with an ax, injuring five. The attacker was the incident's only fatality. 
The week's attacks reignited the conversation in Germany over its refugee policy. In 2015, Germany absorbed nearly one million migrants, most of which were Muslims from war-torn countries like Syria and Afghanistan. As terrorist attacks have spread around the western world over the past year, far-right movements have gained traction, most of which run on the promise of stricter immigration policies. Three of the four attacks last week in Germany were carried out by asylum-seekers, and calls for less accommodating asylum practices are growing louder. Sunday's suicide bomber sought asylum in Germany in 2014 but was denied due to his initial asylum request in Bulgaria, where he was to be deported to.
German officials involved in the investigation said the man had attempted suicide twice before and was in a psychiatric clinic at some point. His successful suicide and public attack was embraced by ISIS, who, through their media affiliate Amaq referred to him as a "soldier." Since 2014, when its caliphate was officially born, ISIS has been directly responsible or has been the inspiration for 2,043 deaths in 29 countries.