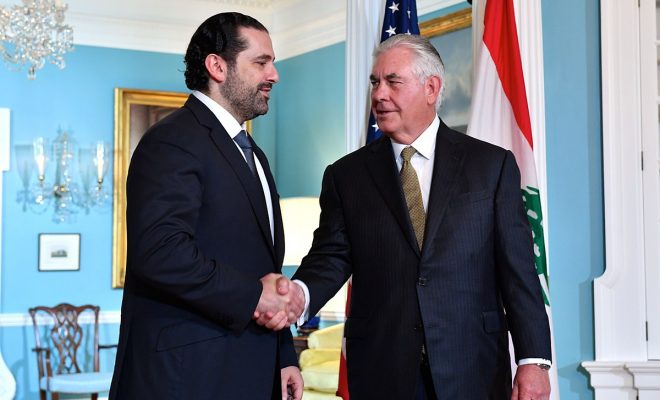 Image Courtesy of U.S. Department of State; License: public domain
World
Lebanese PM Saad Hariri and Donald Trump Discuss ISIS, Syrian Refugees
By
|
To kick off a week-long trip to Washington, Lebanese Prime Minister Saad Hariri met with President Donald Trump on Tuesday to address common security threats and increased economic and security funding. Lebanon is an important U.S. ally in the fight against Islamic State. It also has taken in 1.5 million Syrian refugees, who now comprise about a quarter of its entire population.
But Lebanon is a land of contradictions, largely due to the outsized influence of Hezbollah–an Iranian-backed group that the U.S., the EU, and Israel all consider a terrorist organization–on its politics and security. President Michel Aoun is an ally of the militant group, which is fighting on the side of Syrian President Bashar al-Assad, even while Lebanon absorbs scores of refugees displaced by Syria's intractable civil war.
At a press conference on Tuesday, following a private meeting with Hariri, Trump seemed to fundamentally misunderstand Hezbollah's role within Lebanon. He said: "Lebanon is on the front lines in the fight against ISIS, al-Qaeda, and Hezbollah."
While the U.S. and its allies view the group as a terrorist outfit, Lebanon does not. In fact, Hezbollah, which is fighting ISIS in Syria on behalf of the Assad regime, enjoys broad support in Lebanon. Its priorities certainly diverge from those of the U.S.–it is an Iranian proxy force and has vowed to destroy Israel. But Hezbollah ("Party of God") is key to stabilizing the country, Hariri said in remarks at the Carnegie Endowment for International Peace in Washington on Wednesday.
Hariri said he has numerous differences with Hezbollah, but "one thing we agree on is that the national interest of Lebanon is to have stability and to have a government that is functional." And despite Trump's apparent confusion over Hezbollah, the "administration understand very well the position of Lebanon," Hariri said.
U.S. lawmakers are currently considering sanctions against Hezbollah, and any Lebanese banks that do business with it. Hariri has opposed any effort to sanction Hezbollah, because he says it would cripple the country's entire banking system.
The U.S.-Lebanon partnership remains vital, however. In April, the State Department announced it would provide an additional $167 million to Lebanon to help support Syrian refugees. Hariri, during Wednesday's event, said Trump had promised $140 million more in aid.
"Our approach supporting the humanitarian needs of displaced Syrian citizens as close to their home country as possible is the best way to help most people," Trump said in the Rose Garden on Tuesday. Aid for Syrian refugees in the U.S. will likely dry up soon. Earlier this month, the U.S. reached its 50,000-refugee limit for the year, a threshold Trump lowered from 100,000 as part of his travel ban that will be heard in the Supreme Court later this year.