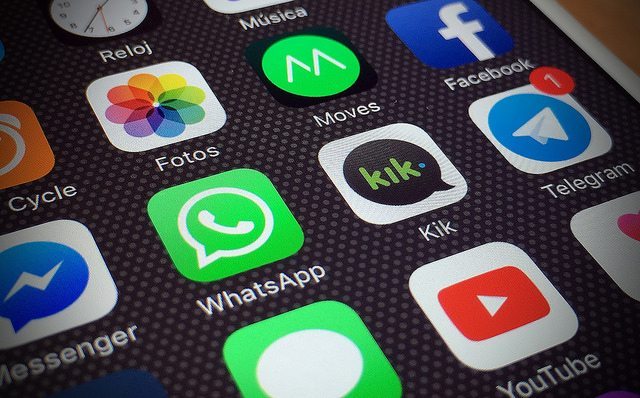 "Apps" Courtesy of [Microsiervos via Flickr]
News
What We Know About Nicole Lovell's Murder and the Role Kik Played
By
|
It's been a week since Nicole Lovell's body was found on the side of North Carolina's Highway 89, and yet there's still so much we don't know about the 13-year-old's bizarre murder.
How 13-year-old Nicole Lovell's tragic murder was planned out by two college students: https://t.co/ShMVHPlWjw pic.twitter.com/t49VTfkdTu

— Teen Vogue (@TeenVogue) February 5, 2016
I can start off by telling you what we do know.
The Blacksburg, Virginia teen had already been through a lot in her 13 years. She survived a liver transplant as an infant, and was taking daily medication to support her liver. She was also a victim of bullying at school, and often used social media to gain self confidence, make friends, and talk to boys.
Then on January 27, Lovell snuck out of her home in the middle of the night to meet up with David Eisenhauer, an 18-year-old freshman and standout track athlete at Virginia Tech; they are believed to have met online. The full extent of their relationship has not yet been released to the public, but the pair is presumed to have been involved romantically.
2nd Va. Tech freshman student arrested over 13-year-old girl's murder https://t.co/d8Y9OHTDOR pic.twitter.com/nweCs0YRWP

— CBS News (@CBSNews) January 31, 2016
Eisenhauer was later charged with kidnapping and first-degree murder, and his fellow classmate Natalie Keepers was also charged as an accessory before and after the fact. The pair is said to have planned the murder weeks in advance, and drove to separate Wal-Marts to purchase cleaning supplies and a shovel with Nicole's body hidden in the back of Eisenhauer's Lexus.
We're still trying to uncover a clear motive for why two college students would allegedly conspire to murder a young girl, but it's already being speculated that the plot was an attempt to cover up a potential sexual relationship that Eisenhauer was having with the underage girl. Because Lovell often communicated with Eisenhauer using the popular social messaging app Kik, there have been growing concerns from parents wondering what the app is and if it's safe for their kids.
Kik is a free instant messaging app that allows users to send messages, photos, games, and other media to one another using WiFi or a data plan. The app has become extremely popular among young teens, and can be used for communication in lieu of cell phones. The app is also similar to Snapchat in that it doesn't keep records of any of the conversations or allow for messages to be filtered or tracked. Users can easily remain anonymous when using the app, which also makes it easy for people to develop fake profiles in order to disguise their true identities.
The combination of these features make it hard for police to use Kik as an investigative tool like Twitter and Facebook, which both store data. The app itself can, however, be perfectly safe for kids communicating with people they already know, but there's always a potential danger when kids begin talking with users they meet online.
So if there's underage kid using the app, a parent or guardian needs to keep up with them to monitor who they're actually talking to. Everyone should be especially cautious of suspicious profiles and make sure not to share personal information over the internet. And I can't stress enough the importance of making sure everyone, adults and children, know never to meet up secretly in person with anonymous people they meet online, because there's always the possibility that what happened to Nicole could happen to them.