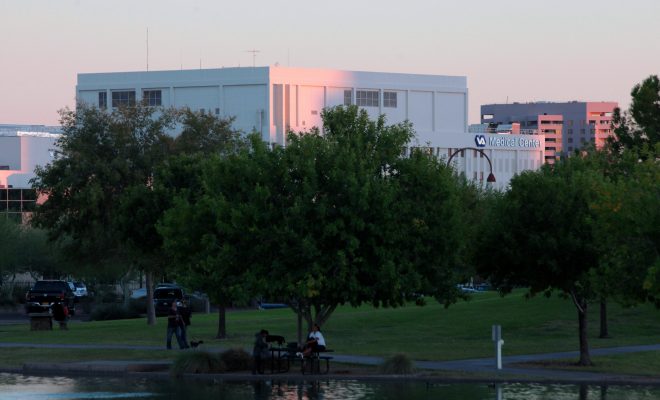 "Phoenix VA hospital" Courtesy of Gage Skidmore; License: (CC BY-SA 2.0)
Politics
VA Announces New Program Allowing Veterans to Get Treatment at CVS
By
|
The Department of Veterans Affairs announced a new pilot program on Tuesday that would allow veterans in Phoenix to receive outside care at CVS MinuteClinics. The program is a new effort designed to alleviate the exorbitant wait times veterans face when seeking care at VA facilities. For now, the program is limited to the Phoenix area, where VA facilities treat about 120,000 veterans.
"Our number one priority is getting veterans' access to care when and where they need it," Baligh Yehia, the VA's deputy undersecretary for health for community care, told the Associated Press. "The launch of this partnership will enable VA to provide more care for veterans in their neighborhoods."
The current Veterans Choice Program (VCP) restricts veterans from seeking outside care unless they have to wait more than 30 days for an appointment. If the nearest VA clinic is over 40 miles away, then a veteran is allowed to seek outside care as well. The new Phoenix-area program allows VA staff to recommend a veteran to go to a MinuteClinic when "clinically appropriate." VA Secretary David Shulkin has indicated he would like to scrap the current VCP restrictions.
Congress recently passed legislation that would funnel $10 billion into the VCP program. "Congress has once again demonstrated that the country stands firmly united when it comes to supporting our nation's Veterans," Shulkin said at the time. President Donald Trump, who promised throughout his campaign to reform the VA, is expected to sign the legislation on Wednesday.
In 2014, then-VA Secretary Eric Shinseki resigned after it was revealed that officials in Phoenix falsified reports about the wait times veterans faced at VA clinics. The fake reports covered up the fact that in some instances, veterans died while waiting for care. In a recent survey conducted by the VA, only 61 percent of veterans said they could get a medical appointment for primary care when they needed one.
Sen. John McCain (R-AZ) a veteran of the Vietnam War, where he was also a POW, supports the new program. "Veterans in need of routine health care services should not have to wait in line for weeks to get an appointment when they can visit community health centers like MinuteClinic to receive timely and convenient care," he said.
And Tobias Barker, the chief medical officer of CVS MinuteClinic, told the AP he hopes the new program can be one of several solutions to providing medical care to America's veterans. "We believe in the MinuteClinic model of care and are excited to offer our health care services as one potential solution for the Phoenix VA Health Care System and its patients," he said.