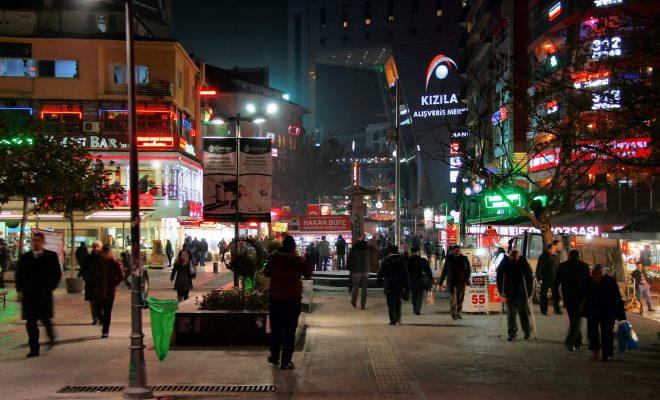 Image Courtesy of Jorge Franganillo; License: (CC BY 2.0)
News
Off-Duty Policeman Kills Russian Ambassador to Turkey
By
|
On Monday, during the opening of an exhibit at an arts center in Ankara, Turkey, an off-duty police officer shot and killed the Russian Ambassador to Turkey, Andrei Karlov. Witnesses said the man, who wore a suit and tie during the attack, yelled: "Don't forget about Aleppo, don't forget about Syria" and "Allahu Akbar," Arabic for "God is great." The assailant, before he was shot and killed by Turkish Special Forces, also wounded three other people.
A reporter with Turkey's Hurriyet newspaper said the gunman shot into the air, and then shot Karlov in the back. Turkey's police forces swarmed the arts center, and promptly evacuated the attendees, many of whom crouched in the corner of the exhibition hall. The walls of the hall were covered in photographs from the "Russia as seen by Turks" exhibit, which opened on Monday with a speech from Karlov, minutes before he was killed.
The moment before: The Russian Ambassador to Turkey looks at a painting at a gallery in Ankara earlier today. Behind him, his assassin… pic.twitter.com/sZyJsTnAYo

— Tunku Varadarajan (@tunkuv) December 19, 2016
Melih Gokcek, the mayor of Ankara, Turkey's capital, said the attack was intended "to ruin Turkey-Russia relations." Meanwhile, a spokeswoman for the Russian foreign ministry said the diplomat "will remain in our hearts forever," adding: "Terrorism will not pass! We will fight it resolutely." The motive for the attack is unclear at this time. A top-ranking member of Russia's parliament, Leonid Slutsky, said relations between the two powers will not weaken because of this incident. "There are differences between us," he said. "It's a horrendous tragedy, but relations between our states will not suffer."
Soon after the attack, CNN Turk reported Turkish President Recep Tayyip Erdogan and Russian President Vladimir Putin spoke on the phone. One possible motive for the killing: the unraveling of Aleppo, Syria, where government forces, heavily backed by Russia, mowed down the city in a matter of weeks, killing  hundreds of civilians and displacing thousands more.
Turkey and Russia back different sides in the Syrian conflict, but brokered a ceasefire agreement and collaborated to evacuate rebel fighters and civilians out of Aleppo. On its state-run news channel, Syria condemned Monday's "cowardly terrorist act." Karlov began his diplomatic career in 1976, and became Russia's top diplomat to Turkey in 2013. According to his biography page on the Russian Embassy website, Karlov spoke English and Korean. He is survived by his wife and son.