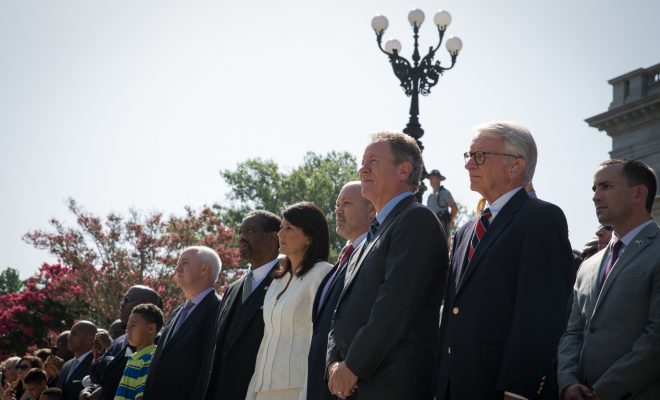 Image Courtesy of South Carolina Governor Nikki R. Haley's photostream; License: public domain
News
Jury Convicts Dylann Roof on 33 Federal Counts
By
|
Dylann Roof, the white man who murdered nine black people at the historical Emanuel African Methodist Episcopal Church in Charleston, South Carolina in June 2015, was convicted on 33 federal counts on Thursday. The charges include nine counts of murder and three counts of attempted murder, as well as obstructing the exercise of religion and hate crimes. The penalty portion of the trial is set for January 3. Federal prosecutors are seeking the death sentence.
The six-day trial included testimony from 30 witnesses, a recorded confession with the FBI, and excerpts from Roof's journal. The New York Times reported that Roof, 22, was emotionless as the judge's clerk announced the verdict. Roof will face the same federal jurors in a few weeks, when his future will be decided: death, or life without parole.
"It is my hope that the survivors, the families and the people of South Carolina can find some peace in the fact that justice has been served," Governor Nikki Haley (R-SC) said in a statement. Assistant U.S. Attorney Nathan Williams, during his closing arguments, said Roof is "a man of hatred, a man who's proven to be a coward and a man of immense racial ignorance," and that Roof killed the nine victims "because he believes that they are nothing more than animals."
Roof's defense attorney, David Bruck, sought to save his client from the death penalty, painting him as "illogical," "delusional," and "obsessive." He implored the jury "to understand what was going on in [Roof's] head," telling them "there is something wrong with his perception." Thursday was likely the last time Bruck will be able to make his argument against the death penalty, and he will find out in a few weeks whether he was successful or not. 
The state of South Carolina is charging Roof separately. That trial is scheduled for January 17. Polly Sheppard, a 72-year-old retired nurse, was one of the witnesses during the trial. Roof spared her life that bloody June evening. Roof heard her praying, Sheppard said, when he asked if she had been shot. She said no. "'I'm not going to,'" Roof replied, Sheppard said. "'I'm going to leave you here to tell the story.'"