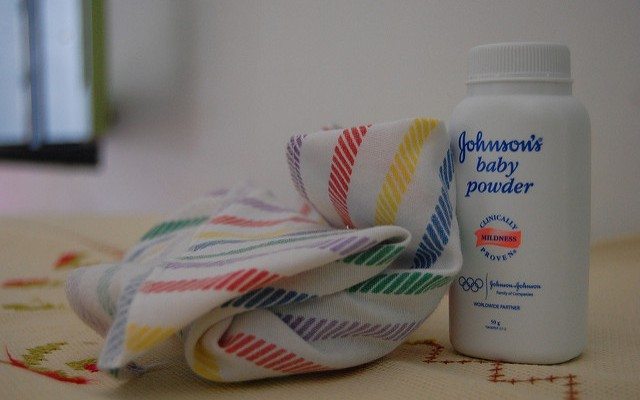 Image Courtesy of [Ikhlasul Amal via Flickr]
News
Johnson & Johnson Ordered to Pay $72 Million in Talc Powder Cancer Case
By
|
Johnson's Baby Powder is a staple in many American households. Not only does it soften babies' bums and prevent diaper rash, but it can also be used by adults as a great deodorizer, dry shampoo, and ant repeller. But before you begin bathing in this magical powdery cure-all, you might like to know that it may also be good for causing cancer, according to a recent Missouri jury ruling.
A St. Louis jury ordered consumer goods manufacturer Johnson & Johnson to pay $75 million to the family of a woman whose death from ovarian cancer was linked to her use of the company's talc-based Baby Powder and Shower-to-Shower products.
The civil suit by Jacqueline Fox, who lived in Birmingham, Alabama, was part of a larger case involving 60 plaintiffs. A St. Louis jury awarded $10 million in actual damages and $65 million in punitive damages to Fox's family after her son, Martin Salter, took over as plaintiff following her October 2015 death. Fox had used Johnson & Johnson's talc-based products for 35 years before being diagnosed three years ago with ovarian cancer.
Since Fox's case was the first to come to trial, it will likely set a precedent for the other cases still to come. According to Reuters, about 1,000 cases have already been filed against Johnson & Johnson in Missouri state court , and another 200 in New Jersey.
In a press conference Jere Beasley, a lawyer for Fox's family, said they were "able to prove statistically that 1,500 women have died every year from the association of talc and ovarian cancer." The legal team was also able to prove that Johnson & Johnson had prior knowledge that its hygienic talc was unsafe. An internal memo dating back to September 1997 was submitted into evidence, that showed a company media consultant suggesting that "anybody who denies" the risk of using hygienic talc and ovarian cancer is "denying the obvious in the face of all evidence to the contrary.
Despite the jury's outcome, there is still some debate over whether or not talc powder is a direct cause of ovarian cancer. Talcum powder in the past often used talc containing asbestos, which are known carcinogens, whereas modern powder does not. Therefore it's possible that some people may have developed cancer with contaminated talc in the past.
According to USA Today, Carol Goodrich, a Johnson & Johnson spokeswoman, said the company stands by the talc used in all "global products" and they are "evaluating" their legal options. Goodrich said in a statement,
The recent U.S. verdict goes against decades of sound science proving the safety of talc as a cosmetic ingredient in multiple products, and while we sympathize with the family of the plaintiff, we strongly disagree with the outcome.
The huge dollar sign attached to this payout can only mean good things for the now hundreds of plaintiffs still waiting to go to trial. But if  Johnson & Johnson continues to lose, these damages could have dire consequences for the company.