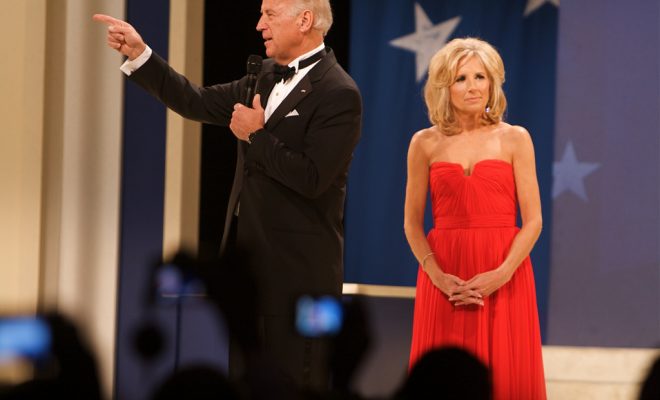 "Joe and Jill Biden" courtesy of Ben Stanfield; license: (CC BY-SA 2.0)
News
Joe and Jill Biden Launch Foundation for Equal Rights and Cancer Research
By
|
On Wednesday, former Vice President Joe Biden and his wife Dr. Jill Biden launched their new charitable foundation, the Biden Foundation. This will be a continuation of the couple's work on equal rights, which they focused on during their years in office. The new organization will prioritize fighting cancer, ending violence against women and children, supporting military families, and achieving equal rights for all.
The fight against cancer became particularly important to the Biden family after Joe's oldest son Beau passed away from the disease in May 2015. The foundation will continue to support the Cancer Moonshot Initiative–the White House anti-cancer effort that Biden headed–which aims to find the cure. Jill Biden is a college professor and will keep working on her longtime goal to increase people's access to affordable, high-quality education. In a video promoting the new foundation, the former vice president said, "As long as we have a breath in us, we're going to be working on it."
Joe and Jill Biden announce The Biden Foundation in new vid, plan to focus on cancer research, violence against women, foreign policy issues pic.twitter.com/z6296Cp8wi

— Kyle Griffin (@kylegriffin1) February 1, 2017
The foundation's executive director will be Louisa Terrell, who used to work for Facebook, Yahoo, and for Joe Biden when he was a senator. The board will also consist of several former Biden aides and advisers. It will accept donations from private foundations, donor-advised funds, and corporate foundations, but not from foreign citizens, entities, or any other foreign sources. In a statement the Bidens said:
We look forward to this new chapter where we will continue our work to ensure that everyone—no matter their income level, race, gender, age, or sexuality—is treated with dignity and gets a fair shot at achieving the American Dream.
In the promotional video, Biden also said he has high hopes for the millennial generation, calling it the most open, most tolerant, and most generous generation in American History. He said that we now have the power to change the culture, "Just as we did when we spoke up and said that the only criteria for who you marry should be who you love."
From fighting cancer to changing the culture on domestic violence — we're just getting started. Join us: https://t.co/QHaFokMnrZ

— Joe Biden (@JoeBiden) February 1, 2017