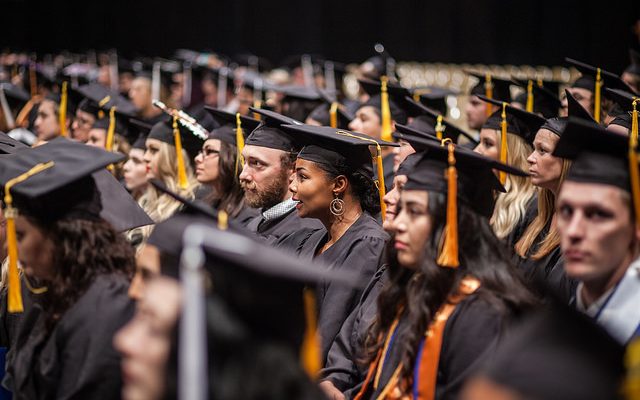 "ACC Spring Commencement 2017" Courtesy of Austin Community College: Licence (CC BY 2.0)
Education
Commencement: What Politicians Want the Class of 2017 to Know
By
|
Over the past few weeks, hundreds of thousands of students nationwide walked across football fields, basketball courts, and stages to receive their diplomas. They sat patiently, sporting caps and gowns in their school colors, while professors, politicians, CEOs, and celebrities imparted wisdom, jokes, and life lessons upon them. Here are the commencement speeches from politicians that will be flooding your newsfeeds for the next month.

In his first commencement speech as president, Donald Trump encouraged graduates to take the "road less traveled" and follow their convictions.
"You must be willing to face criticism from those who lack the same courage to do what is right," Trump said. "I know that each of you will be a warrior for the truth, will be a warrior for our country and for your family. I know that each of you will do what is right, not what is the easy way, and that you will be true to yourself and your country and your beliefs."
He took the opportunity to subtly criticize his opponents in "broken" Washington, saying that the system is overrun with "a small group of failed voices who think they know everything and understand everyone."
Like in many of his public speeches since the beginning of his presidency, Trump also mentioned crowd sizes and voter turnout.
"This is a beautiful stadium and it is packed. I'm so happy about that," he said. "And I want to thank you because, boy, did you come out and vote, those of you that are old enough, in other words, your parents. Boy, oh, boy, you voted, you voted."
Trump's speech focused primarily on the importance of embracing the label "outsider" and standing up for one's beliefs, even when critics get in the way or say something is unattainable. This theme rings especially true coming from Trump, whose election success can be partially credited to his status as a political outsider.
"Nothing is easier or more pathetic than being a critic, because they're people that can't get the job done," he said. "But the future belongs to the dreamers, not to the critics. The future belongs to the people who follow their heart no matter what the critics say, because they truly believe in their vision."
The president also spoke at the Coast Guard Academy. Read his full remarks from Liberty here.